Life's Inside Track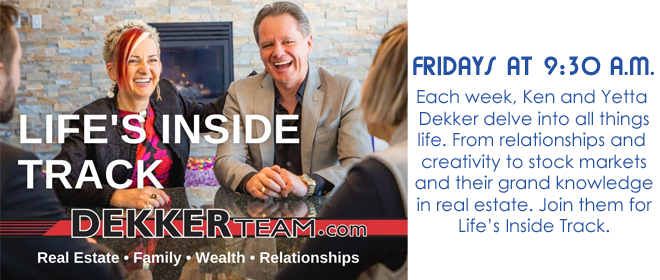 For questions or to schedule an appointment with the Dekker Team, e-mail This email address is being protected from spambots. You need JavaScript enabled to view it. or call 613-860-4663. Visit dekkerteam.com for more information.
I have too frequently thought "Why didn't he do what he said he would do?" Have you noticed that we tend to assess ourselves based on our intentions, and judge others based on their actions? In this episode, we'll unpack how we tend to have a double standard, and that most often we don't even know we have a double standard. Simply by realizing that there is discrepancy between how we assess ourselves and judge another allows us to be kinder to both.
Add a comment
It seems most agree that the common and wise steps are to understand what you want, to determine what to spend, and to have knowledge about the process and information about the real estate market. Then you are ready to take action, and yet many don't ACT. In this episode, we'll open up the conversation about why people freeze and how to get unstuck.
Add a comment
The greatest source of wisdom is from the mouth of God. Whether it be the still small voice, scripture that comes alive in technicolor, a situation that you know you couldn't have orchestrated that speaks to you, or simply a knowing that cannot be denied. In this episode, we'll uncover the courage and confidence that comes from clearly knowing the next LIFE step to take.
Add a comment
Yet taking the high road is the best thing to do. Blinds spots are simply that, something that is not seen by the person who possesses the behaviour. Have you ever experienced the gift of taking the high road when you are enlightened by another about something you would have preferred they leave in the dark? In this episode, we'll share a few stories that will allow us to see the joy and freedom that can come from the cold hard truth seen by another.
Add a comment
In business and life, have you ever gotten feedback that assured you that you were off track and you listened without reservation to it? We have a tendency to listen to what is in opposition to what we know we are to do, even when it is only a few that say don't do it. Have you ever found yourself giving in to the naysayer eagerly because it is more comfortable? We'll explore the hindrance and shrinking effect of listening without hesitation. We'll consider in this episode, whether it is time to assess the voices of the few and the masses before following their direction. Or is it about heeding the voice of the ONE?
Add a comment