Life's Inside Track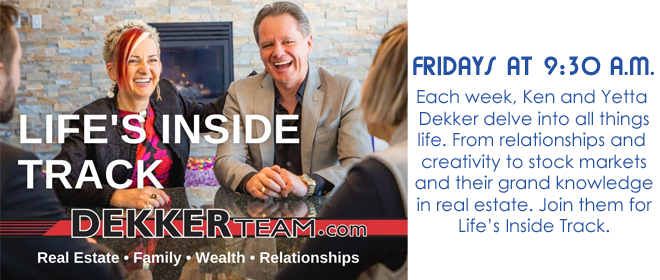 For questions or to schedule an appointment with the Dekker Team, e-mail This email address is being protected from spambots. You need JavaScript enabled to view it. or call 613-860-4663. Visit dekkerteam.com for more information.
With the fluctuating real estate prices and rising interest rates, many people are feeling cut out of the real estate market. That's why we are particularly excited about this segment of LIFE's Inside Track, where we'll meet with Sean and Roz Woodland from Woodland Realty Investments, a couple who for years believed home ownership for them could only ever be a dream or possibly a nightmare. In this episode, they will share their story of how they beat the odds and found a way to buy their first and subsequent properties - and unlike you might assume, it wasn't by increasing their salaries! If you are feeling left out of the real estate market, this show is a must listen.
Add a comment
One of the more painful experiences we all encounter in life is letting others down. If you're like me, you've been late for appointments or forgotten altogether! I can recall when I let someone down on something I believed was trivial, only to learn it was such a big deal to the other person that it broke our connection beyond repair. In this episode of Life's Inside Track, Ken and Yetta unpack how staying faithful to our promises, decisions, and integrity is critical in our relationships with others.
Add a comment
If you could go back in time and talk to your teenage self about money, what would you say? What life lessons would you teach your younger self - and how would it have shaped your future differently? In this episode of Life's Inside Track, we meet Aly Blakeburn, a Dekker Team co-op student from South Carleton High School, who had a powerful mental shift while reading Ken Dekker's The Wealth Formula.
Add a comment
If you could use a time machine to go back and alter a choice or action in your past, what would it be? As a child, I thought it would be amazing to travel into my future to see what my life would be like as an adult. I thought of time as being here. And there. What I came to learn is that we're actually in a time machine right now, because everything we do today impacts our future. Our lives are not static. In this episode of Life's Inside Track with the Dekker Team, we'll unpack how every action we take now affects our future in ways we may not have considered.
Add a comment
Do you watch home improvement shows on Netflix? If so, you've likely seen several episodes or even documentaries on families opting to get back to nature. Off-the-grid cabins and hobby farms are becoming increasingly popular. With the lack of housing in Ottawa, other people are seeking new builds. Determining your mortgageability in these cases is not as straightforward as buying a standard home. In this Life's Inside Track episode, Ken and Yetta unpack what most people don't know about accessing mortgage loans.
Add a comment