Life's Inside Track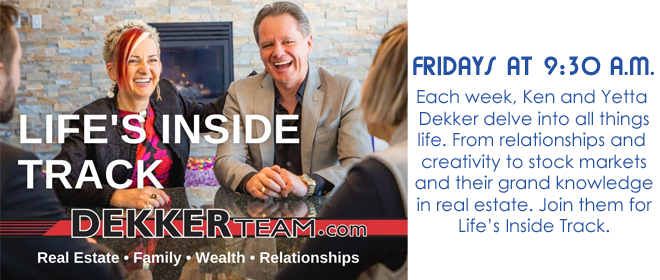 For questions or to schedule an appointment with the Dekker Team, e-mail This email address is being protected from spambots. You need JavaScript enabled to view it. or call 613-860-4663. Visit dekkerteam.com for more information.
How would you rate your relationship with God? I know there are times when I feel so close to Him; I'll hear His voice daily and feel His clear guidance. Other times, it can seem like I'm just going through the motions, feeling disjointed and empty. In this episode of Life's Inside Track with the Dekker Team, we'll discuss how to press into the Lord to feel His presence.
Add a comment
Did you know BIG CHANGES are coming to the real estate market this year? Phase 2 of TRESA, 2002, is rolling out on December 1, 2023. As a buyer or seller, seasoned homeowner, or new to home ownership, you'll want to understand how these changes will affect you. In this episode of LIFE's Inside Track with the Dekker Team, we'll look at the most critical information you as a consumer need to know when working with any REALTOR® in Ontario.
Add a comment
Your main floor washing machine flooded and caused $70,000 in damage. You entered an unresolved boundary dispute with your neighbour over your septic system encroaching on his property. Your wife became ill with Lyme disease and is now bedridden. What becomes your financial lifeline in these situations? What you never wanted to buy: insurance. Would you be covered today if these three hardships landed on your doorstep? Do you need all of them? Perhaps not! In this episode of LIFE's Inside Track with the Dekker Team, we'll determine what types of insurance homeowners should be aware of - and when you might need each.
Add a comment
James felt lost now that he was retired and in his 70s. He thought he had no reason to wake up early and began sleeping in until 11 each day. As the months went on, it became more and more difficult to feel motivated to do anything. His friend Nick urged James to spend a few hours a week at a non-profit crisis hotline center for teens. James would be trained on what to say at a two-day workshop. Nick insisted James would feel better if he got out of the house and focused more on others. If you were James, would you follow this advice? In this episode of LIFE's Inside Track, we'll consider how focusing on improving our bodies and minds can turn our aging years into "saging" years.
Add a comment
It's easy to dread the aging process and life during our golden years because we fear losing our independence and saying goodbye to familiar things. Many of us are frustrated with relying on others to do our gardening, house care, and ongoing maintenance and are saddened by the thought of selling our home. In this episode of LIFE's Inside Track, we'll delve into how to retain our independence before and during the transition with key strategies you need to know.
Add a comment