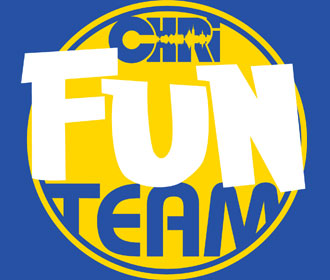 INVITE CHRI to Your Event: Planning an event and want to make a greater impact? You can book the Fun Team and/or a CHRI DJ and we'll bring the music, prizes, expertise, and fun and exposure to your event. Please direct questions and bookings to CHRI Fun Team & Events Coordinator Lydia atThis email address is being protected from spambots. You need JavaScript enabled to view it.*
Additionally, to reach our loyal listening audience, please see advertising options here.
JOIN THE FUN TEAM!
Be part of the CHRI Radio ministry and help make an impact on your community by joining the CHRI Fun Team this summer!
At city events, church events, concerts, and other outreach opportunities, you'll get to:
- represent CHRI Radio at events
- hang out with the CHRI Team and be part of what this ministry is doing
- Connect with the community
- Bless families and individuals at events
- Help run games & add excitement
- Fun Team members will receive an official T-shirt and have the opportunity to attend events for free
Qualifications:
- at least 15 years old
- energetic & personable
- loves God and loves CHRI
- has transportation to and from events
- attends a church and can provide a reference from your pastor
This is a great way for High School students to complete mandatory volunteer hours!
To apply, download the Application Form here (PDF) and return it to Lydia Paulino at This email address is being protected from spambots. You need JavaScript enabled to view it. or call 613-247-1440 x 25 for inquiries.
*(Participation and events selection will be at the discretion of CHRI and/or will be on a first-come, first-serve basis).