Life's Inside Track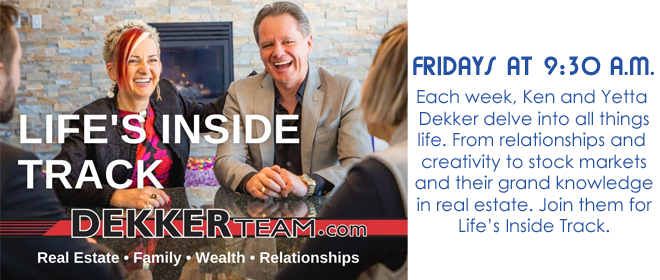 For questions or to schedule an appointment with the Dekker Team, e-mail This email address is being protected from spambots. You need JavaScript enabled to view it. or call 613-860-4663. Visit dekkerteam.com for more information.
Do I really need a guide? What type of guide is right for me? Should I just do what my parents or friends did? Have you ever explored all the options available to you? In this episode, we'll learn that the best financial guides may not be fully apparent at first.
Add a comment
It is everywhere! Have you ever noticed that there is an abundance of relationship advice, and that much of it differs? Have you ever taken counsel from someone and discovered it just didn't work for you? In fact, it caused you distress rather than relief? In this show, we'll learn the options of sources and types of relationship advice we'd be best to obtain.
Add a comment
Have you ever gotten super excited when you were pre-qualified? Have you ever found yourself in the trap of thinking you had your finances all ready to go, only to discover that it was not so? In this episode, we will learn why you'll want to have an expert to guide you on this part of your journey because there is more to consider than one might think.
Add a comment
Establishing patterns and habits that cause us to thrive is essential in every area of our lives. Habits rule us, whether for good or for ruin. In this episode, we'll learn what habits will help us develop intimacy with our Creator.
Add a comment
We all know you can be still or noisy, but you can't do both at the same time. It is impossible to do two things that are in opposition to each other at the same time. In this episode, we'll consider that it is reasonably simple to get ourselves into a state that propels our thoughts and bodies forward in a direction that benefits our whole LIFE.
Add a comment