Life's Inside Track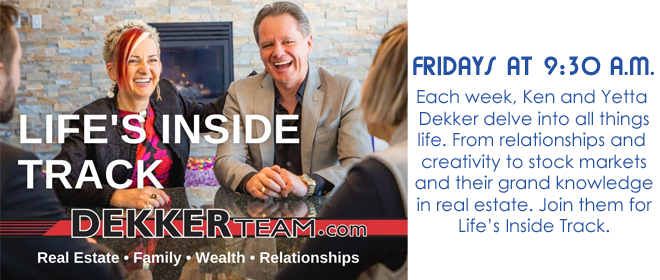 For questions or to schedule an appointment with the Dekker Team, e-mail This email address is being protected from spambots. You need JavaScript enabled to view it. or call 613-860-4663. Visit dekkerteam.com for more information.
We all know you can be still or noisy, but you can't do both at the same time. It is impossible to do two things that are in opposition to each other at the same time. In this episode, we'll consider that it is reasonably simple to get ourselves into a state that propels our thoughts and bodies forward in a direction that benefits our whole LIFE.
Add a comment
Most often in all areas of LIFE, it's the little habits, those seemingly insignificant ones that make the BIG difference. We've likely heard, "beware of the Latte factor", and it is absolutely a worthwhile wealth consideration. Yet what about simply earning more, allowing you to continue having those lattes? in this episode, we'll consider what to eliminate, what to automate, what to increase, and how to jump on the opportunities that abound.
Add a comment
Seldom do we know what another is thinking, what they know, what their experience has been or what they expect. If someone says, "I don't know what I want.", it is often because they haven't considered the question before. In this episode, we'll consider that although there may be a few common things we all know and and all want most, it is frequently as different as we are.
Add a comment
Have you ever found that entertaining is exhausting and you feel like you need a very long nap or maybe even a vacation after hosting? What if you could experience offering hosting casually and effortlessly while forgoing the stress, energy and huge preparations generally required for entertaining? In this episode, we'll have a blast considering the option of being the "go to" place, and yet feeling energetic rather than exhausted after everyone leaves.
Add a comment
It is near impossible to not communicate especially in a world that is driven by technology, cell phones and smartphones. We are caught in the trap of being listened to all the time. Ponder that reality too long and we can really get freaked out. Even before the explosion of a culture of technology wherein our cell phones listened intently to us our CELLS were listening to our every thought, our every nuisance, our every habit, our every word and even our every emotion.
Add a comment