Life's Inside Track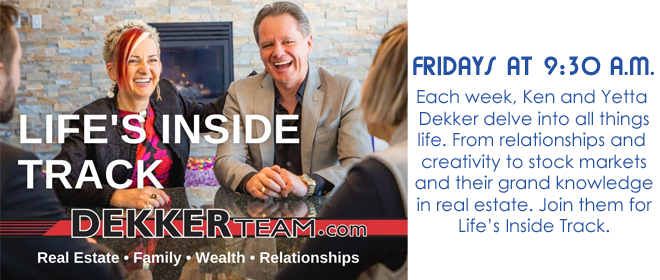 For questions or to schedule an appointment with the Dekker Team, e-mail This email address is being protected from spambots. You need JavaScript enabled to view it. or call 613-860-4663. Visit dekkerteam.com for more information.
Have you experienced significant changes in your home, family, and community over the last two years? Has your dream home suddenly become your worst nightmare? Do you struggle knowing when the best time to make a change is, especially when it comes to moving? We all struggle with the idea of changing. Often, we forget how good and healthy it can be for us. In this episode, we will help you determine the best time for crucial changes, like moving, so you can live in even greater vitality, success, love and have harmony throughout our life.
Add a comment
Have you ever found yourself doing everything you can to get energy and decided this doesn't work? Have you decided I am too tired to move? The only thing I have energy for is mindless scrolling or maybe a movie? Then find yourself even more exhausted than you were before. Tune in to learn how to shift your exhaustion into the spark that ignites your energy. Learn how you can forget about your body just like you did when you were a kid and your parents said "go out and play."
Add a comment
Have you ever wondered why some people seem to be able to get out of debt quickly and build financial wealth just as quickly. Have you ever thought it doesn't make sense that I struggle with money because I know I earn at least as much. That was certainly true for both Ken and Yetta. They decided enough was enough and began studying the habits, beliefs and choices of the wealthy, especially those that got there without being born into it. Because success leaves clues in this episode we'll explore the result of picking up the clues and taking action. Good things are assured to happen.
Add a comment
Have you ever found yourself wondering why some of the relationships you used to enjoy a whole lot seem to be humdrum? Maybe you are even finding that what seem like pointless arguments create unwanted tension. The humdrum have taken over for what was once excitement and delight in each other. In this episode we will learn how and why to put play and fun into our relationships.
Add a comment
Have you ever thought, "My life could use a little more fun?"
When I assess my life each year, many times I desire more fun in my life, and maybe you are a little like me. Do you want to know how to add extra fun into your life? There are at least three specific areas of your home that can encourage fun. Satisfaction in my life requires fun to be in my life. Here are a few life hacks to injecting more fun into your life and home.
Add a comment