Life's Inside Track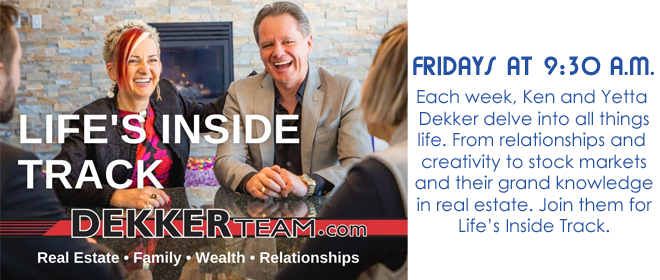 For questions or to schedule an appointment with the Dekker Team, e-mail This email address is being protected from spambots. You need JavaScript enabled to view it. or call 613-860-4663. Visit dekkerteam.com for more information.
After the challenges of the past few years, more and more people are becoming accustomed to working from home. Many of us enjoy the benefits of the saved commute, the ability to wear casual clothes, and a warm lunch in our kitchens. We're also encountering factors we may never have considered, such as new distractions and the loneliness of being alone most of the day. In this episode of Life's Inside Track with the Dekker Team, we'll consider common obstacles that come with working from home. Join Ken and Yetta as we learn specific strategies to bring us to even better vitality whether in the home or office.
Add a comment
What if we gave you a proven way to grow wealth in Ottawa? Would you act? I used to feel distracted by some of the get-rich-quick schemes I'd hear about either through friends or online. And yet, it was the most simple, achievable, and stable investment strategy that launched us to multimillionaire status. In this episode of Life's Inside Track with the Dekker Team, we'll contemplate how living in Ottawa positions you to build steady wealth. Join Ken and Yetta as we determine how you can safely win in the Ottawa Real Estate Market, whether it is going up or down.
Add a comment
What are your New Year's resolutions? In my thirties, when I planned for the new year, I mainly considered my health journey, planning to eat better or finally use my neglected treadmill. As I became more attuned to the voice of the Lord, I planned my way forward spiritually. Will I give in to my daily fears? Will I allow them to derail me and move me in directions I don't want to go? Or will I move forward in faith? In this episode of Life's Inside Track, we'll consider how the tug of war between Fear and Faith moves us away from or towards our calling, and learn how to hold on to the faith that will give you life and life abundantly.
Add a comment
Are there aspects of the upcoming Christmas holidays that challenge you? Most of us can relate to the temptation to overindulge in rich food. Or struggle to interact with relatives who drain our energy. Many of us dread the stress of juggling the financial obligations of gifts, hosting Christmas dinners, and scheduling so many seasonal events. In this episode of Life's Inside Track, join the Dekker Team as we unpack strategies to free us from the strain of the holiday season, and learn ways to protect and even foster our vitality this holiday season.
Add a comment
Are you in over your head financially? If you're like most people who don't specialize in investing, it can be easy to decide you are too old, too busy, or too far in debt to find an effective solution to financial woes. We want you to know there is hope for you. In this episode of Life's Inside Track with the Dekker Team, we'll meet with Canadian military officer Wes Cunningham and learn how he successfully applied The Wealth Formula to make his money work effectively for him and his family. Join Ken and Wes as we look at how you can build financial freedom using a tried and true formula.
Add a comment