Life's Inside Track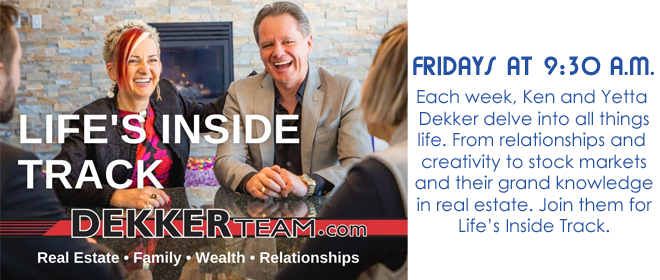 For questions or to schedule an appointment with the Dekker Team, e-mail This email address is being protected from spambots. You need JavaScript enabled to view it. or call 613-860-4663. Visit dekkerteam.com for more information.
Have you ever determined "We're just like everybody else we know, so it must be ok!"? Yetta and Ken struggled with their finances for a decade and stayed quiet. They thought just getting by was normal. They reckoned that even though it was dreary, and they were standing on shaky wobbly financial legs, it was just the way it was always going to be. In this episode, we'll learn that awareness is the first step to making a decision to function and live differently. No matter what circle we are in, the status quo is often broken.
Add a comment
Have you ever put off an important conversation and the situation went from bad to worse? All too often, when we withdraw and choose to say nothing for fear of saying the wrong thing, it blows up. You may feel ashamed, deeply saddened and exasperated with yourself. When the avoidance wrecks a relationship entirely, you are at a loss. In this episode of Life's Inside Track, we will unpack some of the barriers that block great conversations. We'll even learn some practical solutions you could start utilizing today.
Add a comment
Have you ever been so sure of the decision you just made and then later wonder if it was a wise choice? It's pretty typical for many of us to second guess ourselves when buying something as significant as a home. Clients that experience buyer's remorse describe it as anxiety mixed with a dose of frustration and overwhelm. In this episode, we'll learn that everyone is susceptible to buyer's remorse. Get ready to grasp the signs, and learn why it doesn't have to be this way.
Add a comment
Have you found that when your body feels weak, your brain seems bogged down too? Do you find that if you can guide either your body or your brain into action, the other steps up too? In this show, we'll learn what we can focus on that will help us to stay strong, both mentally and physically.
Add a comment
Do I really need a guide? What type of guide is right for me? Should I just do what my parents or friends did? Have you ever explored all the options available to you? In this episode, we'll learn that the best financial guides may not be fully apparent at first.
Add a comment