Life's Inside Track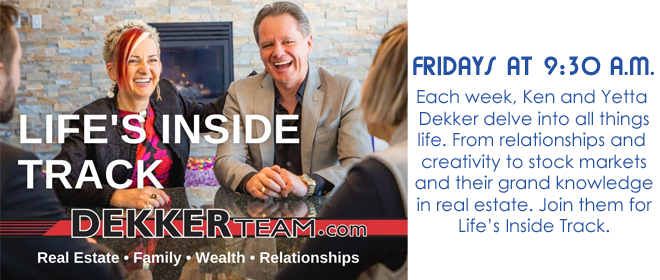 For questions or to schedule an appointment with the Dekker Team, e-mail This email address is being protected from spambots. You need JavaScript enabled to view it. or call 613-860-4663. Visit dekkerteam.com for more information.
We will be talking about automation in investing, The Wealth Formula, Mutual funds and What is the best way to invest in the stock market? Also discussing, how can you build wealth sooner and the simple and timeless method of dollar cost averaging.
Add a comment
Is Forgiveness is the key to happiness? How Friendships and relationships can be healing. What are the health benefits of forgiveness? What if you need to ask for forgiveness? Is it your turn? The five steps to relational healing in all kinds of relationships.
Add a comment
What does it mean to be self-represented vs represented in a real estate transaction and what the benefits of either. What is the fiduciary duty of a real estate consultant. We will discuss pre-emptive offers, exclusive listings, secret listings and how to gain access to them. What you need to succeed in negotiations and how buyer representation can actually save you money.
Add a comment
We were all born creative. Can I increase my creativity? What are some mental benefits of creativity? Boost immune system, releases stress, lower cortisol levels. Can creativity actually make me healthier? Creativity can flow from God through us if we are open to it.
Add a comment
Can the Market do Heavy Lifting or you? How Your Tenant Can Work for YOU - Market increase in Ottawa, about 4-5% in the last 5 years. How Your Tenant Can Work for YOU. If you have an investment property the tenant is doing some of the heavy lifting. Is there an Upside to a Mortgage?
Add a comment