Contests
Details

Category: Contests
Published:

Sunday, 09 July 2017 11:00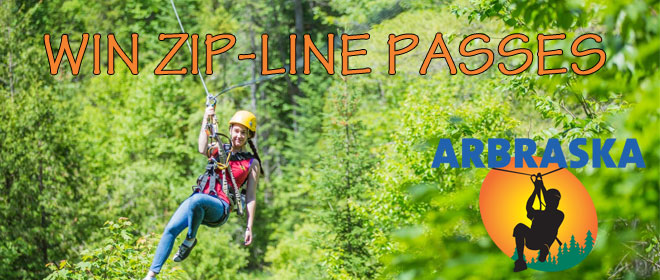 Unleash the adventurer inside! Kids will love playing in the kids specific parks. Teens and adults will have a great time exploring the more challenging tree top aerial courses and giant zip lines!
HOW: During the Morning Express, when you hear the cue to call, be the 9th caller through at 613-247-1886 and tell us about the most adventurous or thrilling thing you've ever done!
WHEN: Monday, July 10th - Friday, July 14th, 2017. During the Morning Express (weekdays 7-10am).
PRIZE: 2 adult & 2 children's (5-13 years old) passes to Arbraska Laflèche Aerial Park $125 value
DETAILS:
Park is open 7 days a week; reservations must be made a minimum of 24 hours in advance by calling 1-877-886-5500 or online.
Location: 35min from downtown Ottawa. Arbraska Laflèche: 255 Route Principale, 307 N Val-Des-Monts, QC. MAP
Adult course:

Suspended bridges, lianas, monkey bridges, swings, and zip lines. The course lasts 3.5 hours and will make you travel through 45 suspended bridges and 9 zip lines. The minimum size for the activity is 5 feet (1,52 m).

Children's Course:

18 suspended bridges in a tree-top setting with two zip lines. The course lasts 1.5 hours and challenges children to reach their goals as the obstacles get higher and more difficult each time. The park requires the presence of an adult in the trees for every two kids of age 5-7 and one adult for every five kids of age 8-13.