Let's Talk Money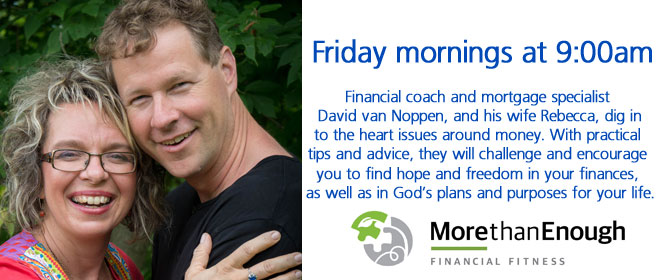 For questions or to schedule an appointment with a More Than Enough team member, e-mail This email address is being protected from spambots. You need JavaScript enabled to view it. or call 613-520-4157. Visit morethanenough.ca for more information.
Dave and Reb talk about the warning signs and antidotes of experiencing financial fatigue.
Add a comment
Ray Borg from Compass Canada talks about how walking in community and accountability helps us battle fear in our lives.
Add a comment
Continuing a discussion on fear and finances, Dave and Reb look at the symptoms of fear and the outside sources of fear.
Add a comment
Ellel Canada Regional Director Kent Bandy talks with Dave and Reb about issues of fear in finances, and encourages us to choose trust in God, over walking in fear.
Add a comment
Dave and Reb talk with business coach Bron Vasic about giving to Caesar what is Caesar's and giving to God what is God's.
Add a comment