Let's Talk Money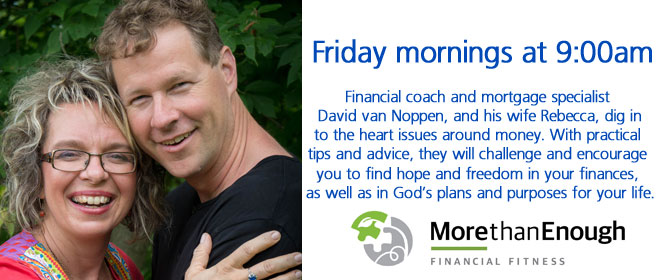 For questions or to schedule an appointment with a More Than Enough team member, e-mail This email address is being protected from spambots. You need JavaScript enabled to view it. or call 613-520-4157. Visit morethanenough.ca for more information.


This week Dave and Reb talk with Ray Borg from Compass Canada and look at how filling the void in our lives with material possessions can lead to debt.
Add a comment


Dave and Reb continue the discussion on the why and how of debt, this week looking at coveting and contentment.
Add a comment
Dave and Reb tackle a four-week series looking at the Why and How of Debt, and the heart issues that can lead to our financial stresses.
Add a comment
Conservative MP and National Caucus Chair David Sweet joins Dave and Reb in talking about Canada's birthday and some of the financial concerns facing Canadians today.
Add a comment
In anticipation of Canada's 150th, Dave and Reb look at some interesting and inexpensive Canadian ways to celebrate. Bring on Canada Day!
Add a comment