Details

Category: Contests
Published:

19 October 2017
Add a comment
Details

Category: Artists
Published:

18 October 2017
Care interviews 2017 Dove Award New Artist of the Year winner Zach Williams ["Chain Breaker"] shares his decision to let go of his past, the role the church played in bringing him back to the Lord, and what product he can't live without!
Add a comment
Details

Category: Concerts
Published:

17 October 2017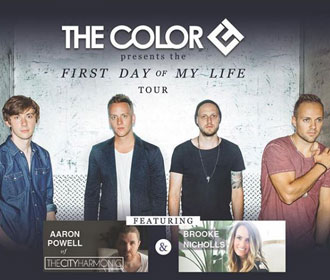 8-time GMA Canada winners The Color will entertain an audience of all-ages on November 10th, also featuring Aaron Powell of The City Harmonic and Brooke Nicholls.
Tickets available online here.
Add a comment
From the creators of God's Not Dead, "Same Kind of Different As Me" is based on the true story of art dealer Ron Hall who must befriend a dangerous homeless man in order to save his struggling marriage. (Click here for a list of participating theatres, including Landmark Kanata, Landmark Orleans, Scotiabank Theatre, Cineplex Barrhaven, Port Theatre Cornwall.)

Visit faithfilms.ca
Add a comment
Details

Category: Artists
Published:

17 October 2017
Brock chats with Canadian worship leader Greg Sykes about growing up with dreams of playing professional hockey, the first time God spoke to him about being a worship leader, and dividing his time between St. Catherines and Nashville.
Add a comment