The Wednesday Bookmark
Details

Category: Authors
Published:

Monday, 02 December 2013 07:00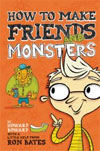 Real friendship isn't so simple, even when you create your own friends from scratch! Click here for Care Baldwin's interview with Ron Bates, author of "How to Make Friends and Monsters" on this week's Youth Wednesday Bookmark, brought to you by
Salem Storehouse
!

30% off! *NEW* Purchase online at salemstorehouse.com, call 613-727-0203 to reserve your copy or visit Salem Storehouse (1558 Merivale Rd). Offer only valid for one week from the interview date.
The hilarious adventure of 13-year-old Howard Boward, genius nerd with a chip on his shoulder and a lack of friends---until a science experiment goes haywire and "creates" a best friend---who just happens to be a monster. But the new fame and friendship isn't exactly everything Howard hoped. Turns out real friendship might not be so simple, even when you create your own friends from scratch.
About the Authors
Ron Bates is a freelance writer and award-winning copywriter who lives and works in Texas. He began his career as a newspaper reporter and later became an editor and columnist. His frequently funny takes on life caught the attention of Legacy Publishing, which hired him as resident humor-columnist. His works include the children's story Arnold Bought a Bug; the inspirational play Flight 1615; Underground Ink, a collection of humorous poems; the Cranium Comics series Brawn; and St. Mary's and the Art of War, the true story of how Italian POWs transformed a tiny, Texas church.
howtomakefriendsandmonsters.com
twitter.com/RonBates2U