The Wednesday Bookmark
Details

Category: Authors
Published:

Monday, 02 December 2013 06:00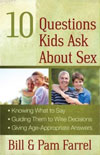 Bill and Pam Farrel, tackle one of the scariest topics of all: teaching kids about sex.  Click here for Brock's interview with Bill & Pam Farrel, authors of "10 Questions Kids Ask About Sex" on this week's Wednesday Bookmark, brought to you by 
Salem Storehouse
!

30% off! *NEW* Purchase online at salemstorehouse.com, call 613-727-0203 to reserve your copy or visit Salem Storehouse (1558 Merivale Rd). Offer only valid for one week from the interview date.
Every parent wants to help their children make wise choices. Now Bill and Pam Farrel, bestselling authors of Men Are Like Waffles--Women Are Like Spaghetti, bring their trademark humor and characteristic wisdom to one of the scariest topics of all: teaching kids about sex. With the lessons in this book, parents will be able to:
clearly articulate 

God's view of sex

lay a foundation for healthy conversation

help their children internalize a godly value system

layer in valuable information so a child is prepared for each life stage

protect their children by giving them the right information at the appropriate time
Full of real-life examples, biblical inspiration, and laugh-out-loud illustrations, "10 Questions Kids Ask About Sex" will engage parents and enable them to succeed!

About the Authors
Bill Farrel has been influencing lives for over 25 years as a senior pastor, youth pastor, radio talk show host, community leader, and sought-after conference speaker. Bill is also the author of The 10 Best Decisions a Man Can Make, and he and his wife, Pam, have written more than 30 books, including Men Are Like Waffles—Women Are Like Spaghetti and Red-Hot Monogamy. They have been married more than 30 years and have raised three young men who love Jesus and athletics.
Pam Farrel and her husband, Bill, are the authors of Men Are Like Waffles—Women Are Like Spaghetti (more than 290,000 copies sold) and Red-Hot Monogamy. In addition, Pam has written 52 Ways to Wow Your Husband and The 10 Best Decisions a Woman Can Make. They are cofounders and codirectors of Love-Wise, an organization to help people connect love and wisdom and bring practical insights to their personal relationships.
love-wise.com
facebook.com/billandpamfarrel
twitter.com/billpamfarrel