The Wednesday Bookmark
Details

Category: Authors
Published:

Monday, 09 December 2013 06:00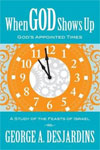 Filled with hope and purpose, learn how you are vital part in God's plan.  Click here for Brock's interview with George Desjardins, local Ottawa author of "When God Shows Up: A Study of the Feasts of Israel" from this week's Wednesday Bookmark, brought to you by 
Salem Storehouse
!

30% off! *NEW* Purchase online at salemstorehouse.com, call 613-727-0203 to reserve your copy or visit Salem Storehouse (1558 Merivale Rd). Offer only valid for one week from the interview date.
Confusion about God's overarching plan for the world-and our place in it, causes lovers of truth to fear mounting an offensive against the Father of Lies. But there is no need for confusion. The feasts of Israel which are listed in Leviticus are not just religious festivals, but God's outline of His specific purposes throughout the scope of history. Whenever God shows up-personally or in the broader scope of time, He gives a deeper revelation of His love for His people, His nature, and His power. Armed with this knowledge, believers can raise the standard of truth, with confidence and certainty. The author argues that it is not God's intent that we are to be kept in the dark; instead God has given us clear instructions regarding His plan-one that extends from the garden of Eden to the new heavens and new earth. And we have a vital part in it that plan. This explanation of the feasts and their fulfillment grants direction and encouragement for the time we live in. Filled with hope and purpose, we can wage the good warfare He intended, and see many come to Jesus. The Lord's trumpet is sounding a distinct call to which every Christian may respond. Answer the call! 
Book signing: Salem Storehouse Saturday, December 14th, 2013 at 11am

About the Author
George Desjardins, is presently on the ministry team at Destiny Center in Carleton Place, Ontario and works to raise up house churches all over Ottawa and the valley. When not ministering he is an ESL consultant and occasional teacher in Catholic Schools in the Ottawa area. George
 volunteers at Matthew House Ottawa, a shelter for refugees.  He is
 the secretary of CORE [Citizen's For Origins Research and Education].  George has an MA is in Linguistics.