Financial Fitness
Details

Category: Authors
Published:

Tuesday, 21 October 2014 07:00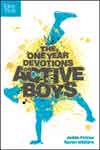 365 upbeat devotions to engage tween boys. Click here for Care Baldwin's interview with Jesse Florea & Karen Whiting authors of "The One Year Devotions for Active Boys", on this week's Youth Wednesday Bookmark!
Click here for more details and to purchase this book online.

This fun devotional includes 365 upbeat devotions, each with a special twist or dose of humor to keep active boys engaged. The devotions combine Scripture and a spiritual message with jokes, riddles, puzzles, and hands-on activities to engage tween boys. The devotions help boys find how real people interacted with God and help them discover solutions to contemporary issues. Each devotion will help guide a young man in developing a lifetime habit of learning from the Bible. Themes include how to navigate the Bible, make good choices, discern God's will, use good and uplifiting language, avoid temptation, choose good friends, trust God, etc.

About the Authors:
Karen Whiting
Karen Whiting, is an international speaker, award winning author,and former television host. Karen loves to splash creativity and faith on pages as she writes. Her inspirational craft books for girls come from fun she had raising her daughters as well as getting creative with other girls. "The One Year Devotions for Active Boys" is her first book for boys. Karen speaks to many groups of women and moms as well as mother-daughter events to share laughter, stories, on topics ranging from building strong relationships, managing time, to appreciating the contributions of women of faith in our history.
karenwhiting.com
facebook.com/Karen-Whiting
twitter.com/karenhwhiting

Jesse Florea
has worked at Focus on the Family for nearly twenty years. For more than fifteen, he's been the editor of Focus on the Family Clubhouse (for boys and girls ages eight to twelve). He's also worked as the associate editor of Breakaway magazine (teen boys) and developed and edited the Growing Years Edition of Focus on the Family magazine and the Focus on Your Child's Tween Ages newsletter. He earned bachelor and master's degrees in communications from Wheaton College, Ill. Additionally, Jesse has written or co-written seven books (including The One Year Sports Devotions for Kids, Adventures of Average Boy: Growing Up Super Average, The One-Year Devos for Sports Fans and The One-Year Everyday Devotions with Tyndale House Publishers). He lives with his wife, Stephanie, and two teenagers, Nate and Amber, in Colorado Springs.