99+1 Days of Summer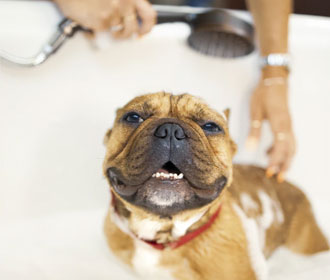 Today is the one and only National Dog Day! Arguably one of the best national days?! (Of course it's up there with National Cat Day...no disrespect to the cat lovers! ;)). Why not spoil your dog(s) today and show them a little extra love? If you don't have a dog, go spoil and send love to your family and friends' dogs!
Read more for ways to celebrate National Dog Day, this year.
1. Let your dog take YOU for a walk
Why not reverse the roles today and let your dog walk YOU? See where your pup takes you! However, if your dog is currently in training, this may not be the best idea!
2. Get your dog a puppucino
There are not many more exciting ways to treat your dog than with the famous puppucino. Go to your local coffee shop and ask for one for your pup (i.e. a cup of whipped cream)!
3. Buy your dog a fun, new toy
Go to your local pet store and pickup a fun new toy or treat for your pup today!! They will love you extra hard for at LEAST the rest of the day.
4. Take your pup to the spa
For the more extravagent puppy parents, take your doggy to the day spa! Ottawa residents, check out Purrdy Paws Spa in the Glebe.
5. Donate to the Ottawa Humane Society in your dog's name
The humane society does a lot for our community. Consider sending them a donation and thank you note today!
6. Do a photo shoot of/with your dog
Get a fancy outfit for your dog (or just showoff their beautiful coat), and snap some high definition photos of them and with you together!
7. Cook your dog a meal of only whole foods
Switch up your pup's diet for a day, and feed them all whole foods! Here are some tips on the whole food diet for dogs.