99+1 Days of Summer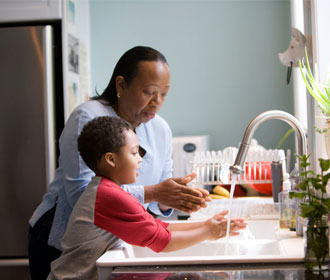 Cooking as a family may sound like a daunting task, especially if you have multiple young children. That being mentioned, there can be many benefits to getting your children involved in the kitchen! By being active in cooking and preparing meals, children will learn important culinary skills, and become more independent in the process.
Read more for tips on having your children help make dinner.
- Give each child their own designated spot in the kitchen so they know where to go without being told (this helps with crowding when the room is busy).
- Take out all tools and ingredients you'll need before you start to cook.
- Give each child an assigned job.
- Experiment with "deconstructed" meals with multiple options each child can prepare. Some examples include tacos, salads, or sandwiches.
- Offer plenty of encouragement as kids embrace their own unique roles.
- Lead by example. Kids who see their parents approach cooking with a positive attitude are far more likely to do the same.
For more tips on cooking with children at each developmental stage, click here.