The Wednesday Bookmark
Details

Category: Authors
Published:

Monday, 22 November 2021 06:00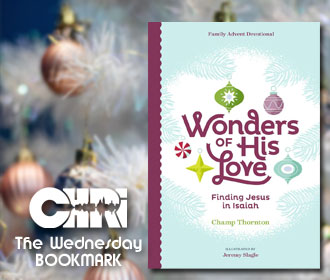 Draw closer to Jesus with your family this Advent season. Replay Care's Wednesday Bookmark interview with Champ Thornton.
Purchase Wonders of His Love, here.

As an Amazon Associate, CHRI earns from qualifying purchases.
Book Description: Advent is the perfect time for families to gather together and celebrate the birth of Jesus. Using pictures of Jesus from Isaiah's prophecies―the Light, the Branch, the Shepherd, and the Savior―brings to life the true meaning of Christmas.
Hundreds of years before Jesus was born, God spoke to his people through the prophet Isaiah, promising them a Savior. To communicate God's message, Isaiah used striking, stunning, and surprising imagery―the "wonders" of his love! Isaiah pointed God's people to the future, when one day, through his birth, death, and resurrection, Jesus would deliver his people from sin and sorrow forever.
Perfect for busy families with younger children, each week of Advent focuses on one of Isaiah's images and has readings related to the week's theme―Jesus the Light; Jesus the Branch; Jesus the Shepherd; Jesus the Savior―and, on Christmas Day, Jesus the Bread. Each week also includes fun stories, discussion questions, crafts, recipes, games, and suggestions for family service projects.
Illustrated by Jeremy Slagle, this four-week devotional will draw families closer to Jesus and to each other.
About the Author:
Champ Thornton is an associate pastor at Ogletown Baptist Church in Newark, Delaware. He has pastored in South Carolina and served as director of SOMA, a ministry training school in Columbus, Ohio. He is host of In the Word, On the Go, a ten-minute podcast for families and is the author of several books, including The Radical Book for Kids, Pass It On: A Proverbs Journal for the Next Generation, Radically Different: A Student's Guide to Community, Why Do We Say Good Night?, and Wonders of His Love. Champ and his wife, Robben, have been married since 1996 and have three children.
Connect: