The Wednesday Bookmark
Details

Category: Authors
Published:

Monday, 15 November 2021 06:00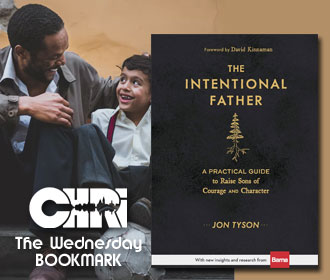 In a world where more and more fathers feel overwhelmed with the task at hand, how can you learn to raise your sons to be good men with courage and character? Replay Brock's Wednesday Bookmark interview with Jon Tyson.
Purchase The Intentional Father, here.
As an Amazon Associate, CHRI earns from qualifying purchases.
Book Description: The Intentional Father is the antidote. This concise book is filled with practical steps to help men raise sons of consequence--young men who know what they believe, know who they are, and will stand up against the negative cultural trends of our day. Jon Tyson lays out a clear path for fathers and sons that includes specific activities, rites of passage, and significant "marking moments" that can be customized to fit any family.
It's not enough to hope our sons will become good men. We need them to be good at being men. This book shows how fathers, grandfathers, and other male mentors can lead the way.
About the Author:
Jon Tyson is a widely respected pastor and leader in New York City and the author of several books, including Beautiful Resistance. Originally from Australia, Jon moved to the United States two decades ago with a passion to seek and cultivate renewal in the Western church.. He has spent the last sixteen years pastoring and planting churches in Manhattan.
Connect: