The Wednesday Bookmark
Details

Category: Authors
Published:

Wednesday, 15 June 2022 06:00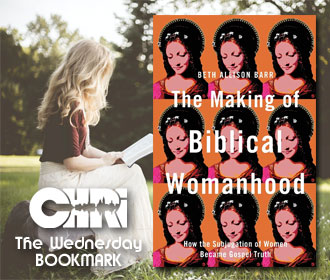 What is "biblical womanhood"? Is our understanding of it in contemporary society divinely inspired, or a product of human civilization? Replay Brock's Wednesday Bookmark interview with Beth Allison Barr.
Purchase The Making of Biblical Womanhood, here.
As an Amazon Associate, CHRI earns from qualifying purchases.
Book Description: This book moves the conversation about biblical womanhood beyond Greek grammar and into the realm of church history--ancient, medieval, and modern--to show that this belief is not divinely ordained but a product of human civilization that continues to creep into the church. Barr's historical insights provide context for contemporary teachings about women's roles in the church and help move the conversation forward.
Interweaving her story as a Baptist pastor's wife, Barr sheds light on the #ChurchToo movement and abuse scandals in Southern Baptist circles and the broader evangelical world, helping readers understand why biblical womanhood is more about human power structures than the message of Christ.
About the Author: Beth Allison Barr received her B.A. from Baylor University and her M.A. and Ph.D. in Medieval History from the University of North Carolina at Chapel Hill. Her research focuses primarily on women and gender identity in late medieval England, how the advent of Protestantism affected women in Christianity, and medieval attitudes towards women in sermons across the Reformation era. Beth is the author of The Pastoral Care of Women in Late Medieval England, co-editor of The Acts of the Apostles: Four Centuries of Baptist Interpretation, and author of more than a dozen articles (published and forthcoming). She is currently working on her next book, Women in English Sermons, 1350-1700. She is also a regular contributor to The Anxious Bench, a religious history blog on Patheos which has also paved the way for her contributions in Christianity Today and The Washington Post. Beth has been very active in service to her discipline—serving as president of two historical societies (the Texas Medieval Association and the Conference on Faith and History), serving on the diversity committee and program committee for the American Society of Church History, serving on the sexual harassment committee for the Sixteenth Century Society, and serving as a board member for The Medieval Review (2015) and the Conference on Faith and History since 2013, as well as CFH program chair (2016) and Vice President (2016). Since receiving tenure in the History Department in 2014, Beth has served as Graduate Program Director in History (since 2016), received a Centennial Professor Award (2018), and received appointment (2018) as a Faculty-in-Residence for the LEAD Living & Learning Community in Allen/Dawson Residential Hall.
Connect: