The Wednesday Bookmark
Details

Category: Authors
Published:

Tuesday, 25 September 2018 06:00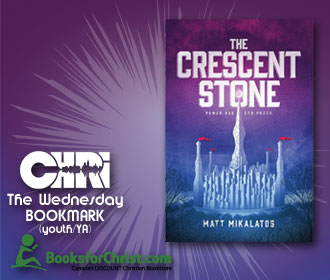 Fans of Narnia will enjoy this compelling fantasy with humour and heart. Read more for Care Baldwin's KIDS Wednesday Bookmark interview with author Matt Mikalatos.
Purchase "The Crescent Stone" online at booksforchrist.com.
(Originally aired September 26, 2018)

Book Description: A girl with a deadly lung disease . . .
A boy with a tragic past . . .
A land where the sun never sets but darkness still creeps in . . .
Madeline Oliver has never wanted for anything, but now she would give anything just to breathe. Jason Wu skates through life on jokes, but when a tragedy leaves him guilt-stricken, he promises to tell only the truth, no matter the price. When a mysterious stranger named Hanali appears to Madeline and offers to heal her in exchange for one year of service to his people, Madeline and Jason are swept into a strange land where they don't know the rules and where their decisions carry consequences that reach farther than they could ever guess.
About the Author: Matt Mikalatos writes books (surprise!). In the past, Matt worked as a high school teacher and a comic book clerk, but currently focuses on nonprofit work devoted to helping people love one another despite their differences. He lives in Portland, Oregon, with his wife, three daughters, two unicorns, a gryphon, a dragon, and three brine shrimp.


Connect: