The Wednesday Bookmark
Details

Category: Authors
Published:

Tuesday, 18 September 2018 06:00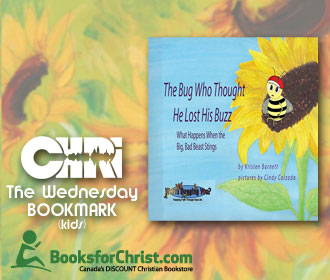 A children's book to help parents talk through real life issues such as terminal illness. Read more for Care Baldwin's KIDS Wednesday Bookmark interview with author Kristen Barnett.
Purchase "The Bug Who Thought He Lost His Buzz: What Happens When the Big Bad Beast Stings" online at booksforchrist.com.
(originally aired September 19, 2018)

Book Description: Watt's Bugging You? Series: At Watt's Bugging You, we have a BUG mission to touch children's and parent's lives. Our series of children's books and products are aimed at helping parents talk through real life scenarios (terminal illness, death, adoption, disabilities, etc.) with their young children (2-6 yrs. old) using faith messages, children's language, and children's characters (Bugs). For this first book: Bugsy, the bee, no longer feels his buzz, so, he goes to the hospital to see what is the matter. When he gets examined by Doc Fuzz, he soon learns he has the Big Bad Beast. Like many bees, he begins asking God the tough questions such as why. Luckily God is by his side to support Bugsy through the journey. Read the "Bug Who Thought He Lost His Buzz" to talk to your own little bee about being diagnosed with a terminal illness and then follow the activities at the front of the book and on the web site (wattsbuggingyou.com) to continue talking to God what it means for your family.
About the Author: Kristen has a Bachelor's Degree in Creative Writing and Master's Degrees in both Counseling Psychology and Human Resource Development, is a Director at a Consulting firm, but it is her experiences in life with God, her 4 year old daughter, and volunteer work with young children living life's bumps and bruises that makes her the perfect author for this site, her ministry, and her books. Like many of you, she asked the tough questions when she lost her daughter Hope, when she sat with parents who feared losing their young child to cancer, and when she wondered whether the adoption process would ever end. She listened and coached parents who didn't know what to say when life seemed bigger than them. It is these real life experiences which have led her to writing, healing, and not losing Faith even when it was tough to see light at the end of the tunnel. She knows only with God can there be light and hope.


Connect: