The Wednesday Bookmark
Details

Category: Authors
Published:

Monday, 29 October 2012 13:18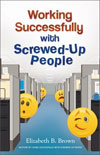 Crazy co-workers stressing you out? Here's the solution.  
Click here
for Brock's interview with Elizabeth B. Brown, author of "Working Successfully With Screwed-Up People" from this week's Wednesday Bookmark, brought to you by 
Salem Storehouse
!

30% off! Call 613-727-0203 to reserve your copy or visit Salem Storehouse (1558 Merivale Rd or 315 Lisgar St).  Offer only valid for one week from the interview date.
Let's face it. Some people just don't listen, don't care, and aren't willing to compromise. And you probably work with some of them. The incomprehensible supervisor. The person in the next office who chats more than works. The customer who, by the way, isn't always right. For all those co-workers who drive you crazy, there's a solution.
The bestselling author of Living Successfully with Screwed-Up People turns her insightful eye to the workplace, showing readers how they can get along with and work successfully beside the people who drive them up the wall. "It doesn't take two people to change a relationship in the workplace," says Elizabeth B. Brown. "It takes one--me!" Her expert advice will help workers in any profession learn how to be unflappable, imperturbable, and unflustered when dealing with the difficult people in their workplace.

About the Author
Elizabeth B. Brown is a teacher, a speaker, and the author of the popular Living Successfully with Screwed-Up People and the helpful Surviving the Loss of a Child. She and her husband live in Tennessee. 

elizabethbbrown.com