The Wednesday Bookmark
Details

Category: Authors
Published:

Monday, 22 October 2012 14:40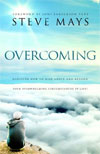 Bad things can (and do) happen to good people.  
Click here
for Brock's interview with Steve Mays, author of "Overcoming: Discover How to Rise Above and Beyond Your Overwhelming Circumstances in Life" from this week's Wednesday Bookmark, brought to you by 
Salem Storehouse
!

30% off! Call 613-727-0203 to reserve your copy or visit Salem Storehouse (1558 Merivale Rd or 315 Lisgar St).  Offer only valid for one week from the interview date.
Sometimes difficult circumstances are the natural result of our own choices, but other times they stem from someone else's bad behavior. Either way, God is calling Christians to move beyond adversity and live a victorious life that brings glory to His name.
Can we overcome our debilitating emotions? Can we rise above our overwhelming circumstances? Steve Mays insists that we can and must, with the power of the Holy Spirit. Mays helps readers deal with discouragement, fear, depression, hostility and worry and invites them to build character by overcoming distraction, selfishness and weakness. Finally, he shows readers how to grow by teaching them how to deal with criticism, jealousy, irresponsibility and suffering.

About the Author
Steve Mays is the senior pastor of Calvary Chapel South Bay in Gardena, California for over 31 years. He is a well-known conference and commencement speaker, author and radio personality through the Light of the Word broadcast, heard by thousands throughout the country and abroad. He has also taught at the Christian Embassy United Nations in New York as well as at the Ambassador Study, the Diplomat Study and the Pentagon in Washington DC. Steve has been married to his wife, Gail, for 40 years. They have two grown children and four grandchildren. 

lightoftheword.org
facebook.com/Steve-Mays
twitter.com/wwwstevemaysorg