Financial Fitness
Details

Category: Authors
Published:

Tuesday, 05 July 2016 07:00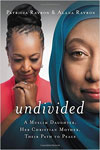 A Muslim daughter, her Christian mother, their path to peace. Click here for Brock's interview with American Islamic convert, Alana Raybon, a dedicated educator, and her devout Christian mother, Patricia Raybon, an award-winning author on their book "Undivided" on this week's "Best of the Wednesday Bookmark", brought to you by BooksforChrist.com!

Purchase online at BooksforChrist.com.

"Mom, I have something I need to tell you..."
They didn't talk. Not for ten years. Not about faith anyway. Instead, a mother and daughter tiptoed with pain around the deepest gulf in their lives - the daughter's choice to leave the church, convert to Islam and become a practicing Muslim. Undivided is a real-time story of healing and understanding with alternating narratives from each as they struggle to learn how to love each other in a whole new way.
Written with rare honesty and striking transparency, Undivided opens a door on the lives of an American Islamic convert, Alana Raybon, a dedicated educator, and her devout Christian mother, Patricia Raybon, an award-winning author, as they struggle to reconcile and heal their family divided by faith.
An important work for parents whose adult children have left the family's belief system, it will help those same children as they wrestle to better understand their parents.
For anyone troubled by the broader tensions between Islam and the West, this personal story distills this friction into the context of a family relationship--a journey all the more fascinating. While a conversation is desperately needed in America between Christians and Muslims, Undivided offers a real-time conversation to follow.
Undivided is a tremendously important book for our time. Will Patricia be able to fully trust in the Christ who "holds all things together?"
Will Alana's love for God cause her to become an outcast to her family--or provide a path that leads her back home? And can they answer the question that both want desperately to experience: "Can we make our torn family whole again?"

About the Authors
Patricia Raybon is the award-winning author of I Told the Mountain to Move, a 2006 Book of the Year finalist in Christianity Today magazine's annual book awards competition; and My First White Friend, her racial forgiveness memoir that won the Christopher Award. She is also author of the One Year® devotional, God's Great Blessings. A journalist by training, Patricia has written essays on family and faith, which have been published in the New York Times Sunday Magazine, Newsweek, Chicago Tribune, USA Today, USA Weekend, and In Touch of In Touch Ministries; and aired on National Public Radio. She is also a regular contributor to Today's Christian Woman online magazine.
With degrees in journalism from Ohio State University and the University of Colorado at Boulder, Patricia worked a dozen years as a newspaper journalist for the Denver Post and the Rocky Mountain News. She later joined the journalism faculty at the University of Colorado at Boulder, where for fifteen years she taught print journalism. Patricia now writes full-time on "mountain-moving faith."
Patricia and her husband, Dan, are longtime residents of Colorado and have two grown daughters and five grandchildren. Founder of the Writing Ministry at her Denver church, Patricia coaches and encourages aspiring authors around the country and is a member of the Colorado Authors League and the Authors Guild.
patriciaraybon.com
facebook.com/PatriciaRaybonAuthor
twitter.com/patriciaraybon
Alana Raybon is a seasoned elementary- and middle-school educator. During the past ten years, she has served as a third-to-seventh-grade lead teacher to a diverse population in Texas and more recently in Tennessee. She has been a mentor to new and student teachers, an advisor to a school's accreditation process, a tutor, and a member of various school-related committees. Alana and her husband parent their three young children and a teenage stepson. She was featured with her mother in a May 2011 Mother's Day reflection in Glamour magazine
alanaraybon.com
facebook.com/AlanaRaybonAuthor
twitter.com/alanaraybon