Financial Fitness
Details

Category: Authors
Published:

Tuesday, 17 June 2014 07:00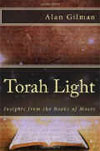 Commentary from a Messianic Jewish perspective. Click here for Brock's interview with Alan Gilman, local Ottawa author of "Torah Light: Insight from the Books of Moses" from this week's Wednesday Bookmark, brought to you by
Salem Storehouse
!

30% off! *NEW* Purchase online at salemstorehouse.com, call 613-727-0203 to reserve your copy or visit Salem Storehouse (1558 Merivale Rd). Offer only valid for one week from the interview date.
Since 1997 Alan Gilman has been producing TorahBytes, a short weekly online commentary from a Messianic Jewish perspective. "Torah Light" is the first printed compilation of some of the best of TorahBytes (chosen from over 800). Each of the fifty-four messages have been carefully chosen and revised for this beautifully arranged publication. Includes one never-before-published message. "Torah Light" provides an inspirational thought for each week of the year based on the annual reading cycle of the Torah (Five Books of Moses).
**Book signing: Friday, June 20th at Salem Storehouse from 11am - 3pm.
About the Author
ALAN GILMAN has known Yeshua (Jesus) as his Messiah since 1976. He and his wife, Robin, also a Jewish believer, have been married for over thirty-four years and have ten children. Alan's passion is helping people connect with the truth of the entire Bible through teaching and writing. He has been producing TorahBytes, a weekly, online biblical commentary since 1997. Alan and Robin live in Ottawa, Canada.