99+1 Days of Summer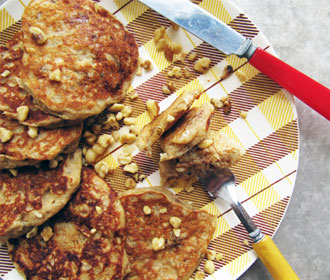 Labour-day weekend is coming up! Enjoy these fluffy pancakes that taste like fresh from the oven banana bread this long-weekend.
Banana Bread Pancakes (makes 8+ pancakes)

Ingredients
Dry:
1 cup all-purpose flour
1 T light brown sugar
1 t baking powder
1 t baking soda
1/4 t cinnamon
1/4 t kosher salt
Wet:
1 cup mashed ripe bananans (about 2)
3/4 cup melted coconut oil (or vegetable oil)
1 cup buttermilk, shaken
1 large egg
1 t vanilla extract

Mix-ins + toppings:
1/3 cup chopped walnuts
Maple syrup and butter to top
Butter or oil for the skillet
Directions:
In a medium bowl whisk together the dry ingredients. In a smaller boil whisk together the wet ingredients. All at once add the wet to the dry and mix until just combined. Fold in the walnuts.
Preheat your skillet over medium heat and brush with butter or oil. Using 1/4 cup measuring spoon, scoop the batter onto the warm skillet. Cook for 2-3 minutes or until small bubbles form on the surface of the pancakes, then flip. Cook on opposite side for 1-2 minutes, or until golden brown.
Transfer cooked pancakes to a baking sheet in a 200F oven. Repeat until all the pancakes are done. Serve with butter, maple syrup, and more walnuts.
Source: takeamegabite.com