99+1 Days of Summer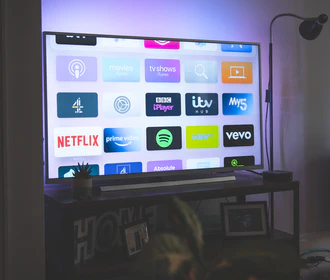 There have been some great films made by Christians in Hollywood. As a media company, we love hearing when new projects are in development and supporting them by spreading the word or even hosting private screenings. (we can't wait to be able to do those again!!
Here are a few that the CHRI team personally recommend. So order pizza, put a little extra melted butter on that popcorn, and settle in for some inspiring, faith-building entertainment!
Amazing Grace (2006)
"I'm a sucker for shows & movies, that are civil rights related, haha, plus I loved learning more about the inspiring life of William Wilberforce." – Brock Tozer (Morning Express host)
Synopsis: In 18th-century England, House of Commons member William Wilberforce and his close friend and a future prime minister, William Pitt, begin a lengthy battle to abolish Great Britain's slave trade. Though Wilberforce's legislation is soundly defeated in 1791, his growing affection for Barbara Spooner inspires him to take up the fight once more.
Facing The Giants (2006)
"The Kendrick Brothers have made a few worthy films but this one is still my favourite. It was made on a small $100,000 budget and earned and made $10.2 million!" – Bill Stevens (General Manager)
Synopsis: A high school football coach faces a losing team and the possibility of being fired, but rises above it all to create a winning spirit on the field.
Same Kind of Different As Me (2017)
"I resonate with this movie because of my heart for the homeless and the story of the couple with a challenging marriage that helping in a shelter brings them together again because of purpose." – Lydia Paulino (Community Relations Director)
Synopsis: International art dealer Ron Hall must befriend a dangerous homeless man in order to save his struggling marriage to his wife, a woman whose dreams will lead all three of them on the journey of their lives.
The Chosen (2017 - , TV series)
"It's incredibly well done and keep in mind, this is not a Hollywood production but Hollywood is now taking notice. Plus the quality of filming and acting is excellent and feels like you're really there in the story. So far, The Chosen (Seasons 1 and 2) are the largest crowdfunded media project of all time." – Dianne Van der Putten (Director of Advertising)
Synopsis: The Chosen is a multi-season television drama about Jesus of Nazareth. Series creator Dallas Jenkins wanted to create a series about Jesus that could be "binge watched." Jenkins' intention was not only to dig deeper into the people who encountered Jesus and to see Jesus through the eyes of those who met him, but also to show him in a way that is more "personal, intimate, immediate."
The first season introduces Jesus and the calling of his initial disciples. The second season focuses on the beginning of his public ministry and what happens as word of his ministry begins to spread. (Season 3 of 7 is in development)
Available to download or stream free on The Chosen app or the YouVersion app.
I Can Only Imagine (2018)
"As a fan of movies and music, this was one of the first times I could see a faith-based film through the eyes of a non-Christian. Solid script, amazing talent, and a beautiful, true story of reconciliation and forgiveness." – Care Baldwin (Home Stretch host)
Synopsis: The inspiring and unknown true story behind MercyMe's beloved, chart topping song that brings ultimate hope to so many is a gripping reminder of the power of true forgiveness.


Other 'Must-See' Faith-Based Inspirational Films:
The Ultimate Gift (2006)
Overcomer (2009)
War Room (2015)
Blue Miracle (2021)