99+1 Days of Summer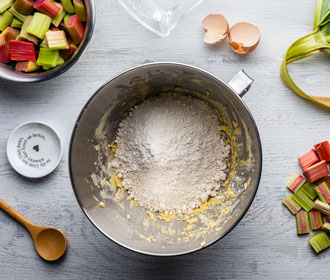 It's rhubarb season! Rhubarb is one of the first garden vegetables to be ready for consumption in early summer. There are many great ways to use up your rhubarb, and one of our listeners, Ann, has gracefully shared her Oma's rhubarb recipe for you to try. Ann says, "This is one of my favourite recipes from my Oma and I have carried on the tradition for family functions. Also easy to adapt to make it gluten/dairy free and is super yummy with strawberries added too!".
We hope you enjoy Oma's Rhubarb Cake Recipe! Read more for recipe instructions.
INGREDIENTS
Filling:
3 - 4 cups rhubarb, cut into 1" bits
2/3 cups sugar
Dough:
1 ¼ cups flour
1/3 cup sugar
1/3 cup shortening
1 egg
Toppings:
4 eggs, separated
2/3 cup sugar
1 lemon rind or 1 Tbsp lemon juice
2 Tbsp milk
2 Tbsp potato starch
1/8 tsp baking powder
DIRECTIONS
Mix rhubarb and sugar together and let stand.
For the dough:
1. Mix ingredients together with a pastry cutter until crumbly, then add egg and make it into a dough.
2. Roll out dough and put in a greased 9x12 glass pan.
3. Put rhubarb on top – leaving juice behind.
For the Topping:
1. Mix egg yolks, sugar, milk and lemon together with the starch.
2. Beat the egg whites with baking powder until stiff.
3. Blend in yolk mixture and pour over rhubarb.
Bake at 375°F for 45-55 minutes, or until Topping is set and no longer jiggly.
Enjoy!