99+1 Days of Summer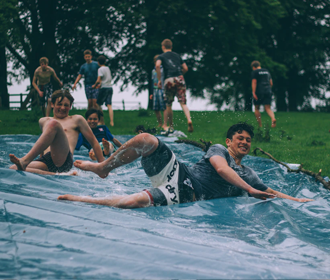 It is getting HOT outside in the Ottawa area! Beat the heat this summer by building your own slip and slide, right in your back yard! All you need is some plastic sheeting and some pool noodles, and you are well on your way to creating an EPIC slip 'n slide to be enjoyed by the whole family.
Show us your DIY slip 'n slide by tagging us in videos on Facebook, Instagram, or Twitter @CHRIRadio!
Read more for instructions on how to build your own slip 'n slide.
What you need:
- Heavy duty plastic sheeting
- Pool noodles (number dependent on how long you want your slip 'n slide to be)
- Sprinkler or water hose
- Tear-free baby soap (optional)
Instructions:
1. Choose an area where you can install your slip and slide. Try to make sure the land you are using has a bit of a slope, to make the water flow better (not too steep, though!). Make sure the area is raked clean, so that there are no potential rocks or sticks that could cut through the plastic.
3. Cut the plastic down to the length you would like your slip 'n slide to be. The thicker the plastic sheet, the better (6mm plastic is best, but 4mm could work too - you can also fold the sheet in half, if it is wide enough, to make it more durable).
4. Lay pool noodles along the sides and top of your slide, and lay the plastic over the noodles. Make sure that the noodles are close together. This is to ensure that no one can accidentally slide off of the track.
5. Turn on the hose, and speed on down the slip 'n slide! With your regular garden hose, wet the plastic from end to end, and for extra slippery-ness, add baby soap to the slip 'n slide! And to avoid a fun day being ruined - make sure to avoid using a soap that will sting if it gets in your eyes!
Pretty straight forward, right?! Slip 'n slides are a super fun, and cost-effective way to have fun with the kids, neighbours, and friends, and stay cool on a hot summer day!