99+1 Days of Summer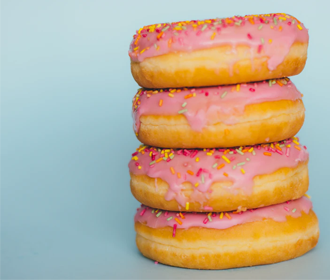 It's National Donut Day! Or is it d-o-u-g-h-n-u-t? Who knows.
Did you know that Doughnut Day was established by The Salvation Army in 1938 to honour The Salvation Army's "Doughnut Lassies"? The "Donut Lassies" served the treats to soldiers during World War I, and are often credited with popularizing the doughnut in the United States when the troops returned home from war. The Salvation Army celebrated the first National Doughnut Day in Chicago in 1938 to help raise funds during the Great Depression and commemorate the work of these women.
The doughnut now serves as a symbol of all the social services The Salvation Army provides to those in need.
Read more to make your own homemade donuts using this simple recipe from the Salvation Army!
INGREDIENTS:
- 5 cups of flour
- 2 cups of sugar
- 5 tsp. baking powder
- 1/4 teaspoon salt
- 2 eggs
- 1 3/4 cups of milk
- 1 tub lard

Yield: 4 dozen donuts

DIRECTIONS:
- Combine all ingredients (except for lard) to make dough.
- Knead dough, roll smooth and cut into rings (about 1/4 inch thick)
- Drop the rings into the lard, making sure the fat is hot enough to brown the donuts gradually. Turn the donuts slowly several times.
- When browned, remove donuts and allow excess fat to drip.
- Dust with powdered sugar. Let cool.