Blog
Details

Category: Blog
Published:

Monday, 13 June 2022 11:36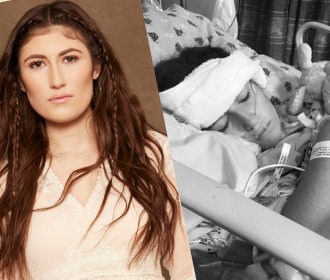 June is Scoliosis Awareness Month, and Katy Nichole (In Jesus Name singer, CHRI's current No. 1 song) opened up about her experience being born with congenital scoliosis. While God has given her physical healing, the greatest miracle in her story was finding Jesus in her darkest moment. Her story reminds us that Jesus finds us in our pain, and gives us a reason to keep fighting. Read more for her story and photos.
Katy Nichole shared this caption, along with the following photos, on her Instagram page (@katynicholemusic) last week:
"I was born with congenital scoliosis which is known to be rare with only 1 in every 10,000 babies born and it can be extremely progressive. Although the odds were stacked up against me, I was ready to beat those odds - I believed I could face any obstacle that came in my direction. At the age of 15 I was told I needed metal rods and screws placed in my spine to correct a 68 degree curve that was starting to compromise my lungs and heart. After what seemed to be a successful surgery I was in excruciating pain. I was dealing with not just physical pain but severe depression as well. The depression felt like a smoke cloud had covered my life and there was no way out. One day I picked up a bottle of pills and said, "it'd be that easy." Immediately that bottle fell out of my hands and onto the floor and I felt the Lord say He wasn't done yet. I held onto that moment for 3 long years. Eventually after going to every doctor and trying every form of pain relief, the doctors decided to remove the metal from my spine in 2018. After the second surgery I felt an immediate change in the atmosphere. The presence of Jesus was so heavy on my life and I saw the light again after so many years in the dark. Not only that, but I witnessed a miracle when they took post surgical x-rays and found my spine to be straighter without the metal in it. Although I witnessed a miracle physically, it was finding Jesus that day that was the true miracle. After my second surgery I found out that I had an underlying genetic disorder called Ehlers Danlos Syndrome which had been a contributing factor to a lot of the pain I dealt with and explained many health issues I've had throughout the years. So while I have seen miracles and experienced supernatural healing, I am still facing health challenges even today. I want to say that life is a healing journey that we are all on. We may be facing different battles but we are all reaching towards the same goal. Every day I call on the name of Jesus to provide health and strength so that I can keep doing what I'm doing. I am so blessed to be where I am today and I know that each day is a gift. There's a list of what ifs and unknowns but I put my faith in Jesus and I trust in His perfect plan. My story is a little broken but I can say with confidence that God is in this story."
What miracle are you longing for God to do in your life? How can you trust Him more in the waiting? We hope you've found some inspiration to keep calling on His name and finding your strength in Christ as you long for the day of complete physical, mental, and spiritual healing, as God has promised us in His Word (Revelation 21:4). We are praying for you!