Thrive 11-10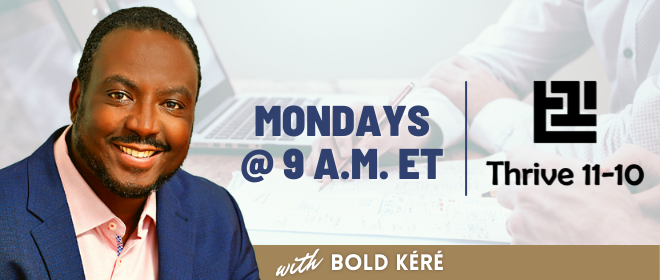 We know that you want to grow a thriving business and inspire your community with your success story. The same is true for you, leaders of mission-driven organizations, as you want to have a growing and lasting impact. The problem is when challenges arise, you are often left improvising, which makes you feel overwhelmed and even stuck sometimes. In the show Thrive 11-10, Awarding-winning and Certified Kingdom Advisor Bold Kéré, along with seasoned guests from all walks of entrepreneurship, deliver weekly insights and practical tips you can implement right away. Topics include management, marketing, sales, finances, communications, efficiency, leadership, products and services offering, human resources, and more. Tune in to CHRI every Monday at 9 A.M. ET and get the results you are looking for in your businesses and organizations, without losing your sanity. For more information or to schedule an appointment with Bold, visit boldcare.ca.
Details

Category: Thrive 11-10
Published:

Monday, 20 September 2021 09:30
Navigating life and business or ministry as a couple has its share of challenges and can be a catalyst for greater harmony. Get practical keys on how to do that well.
Details

Category: Thrive 11-10
Published:

Monday, 13 September 2021 09:30
If you want to take your business from point A to point B, this episode will help you know exactly what to tackle next using a proven methodology, rather than relying on your instincts or hitting on the first nails that pop out.
Details

Category: Thrive 11-10
Published:

Monday, 06 September 2021 09:30
Without it, you and your staff could be wasting time, money and resources doing things that do not help your business or organization thrive. The lack of it could even be the reason people working with you are not as engaged and motivated as you would like them to be. Discover what that thing is and help your business thrive.
Details

Category: Thrive 11-10
Published:

Monday, 30 August 2021 09:30
A new show just for you! Hear for yourself what Thrive 11-10 is all about, and how you can benefit from it.
Caution: you risk being hooked to CHRI even more than before...in a good way, of course.