The Wednesday Bookmark
Details

Category: Authors
Published:

Monday, 06 November 2023 10:00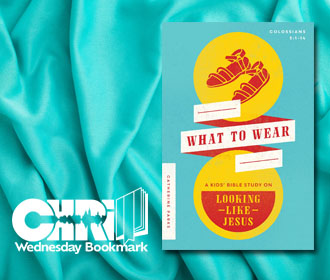 Help your children fall in love with God and His Word as they study the Bible for themselves. REPLAY Care's Wednesday Bookmark interview with Catherine Parks.
As an Amazon Associate, CHRI earns from qualifying purchases.
Book Description:
Helping kids fall in love with God and His Word as they study the Bible for themselves.
What to Wear is your kids' journey into their truest identity—Jesus Christ!
The Apostle Paul tells us that our identity is in Christ, and we need to dress the part. All who follow Jesus—kids included—must take off and put on certain things. What to Wear is an eight-part study of these items of "clothing" Paul teaches about in Colossians 3. How do we put on compassion, kindness, humility, meekness, patience, forbearance, forgiveness, and love?
This study shows your kids how Jesus perfectly embodies these virtues and how He enables us to grow in them. Apart from Jesus Christ, our attempts to form these traits in our children will fail. Yet when tied to identity in Christ and our belonging in the church, we see the fruit of these qualities developed in our minds and hearts.
Kids are encouraged to learn algebra, science, instruments, and athletics. The goal of this study is to help our kids live into their calling to know and love Jesus by studying His Word. In this study, kids will learn the method of observation, interpretation, and application. As kids learn how to read the Bible for themselves, they'll also grow to delight in God's Word.
What to Wear provides the encouragement and guidance needed for your kids journey into looking like Jesus!
About the Author:
Cathering Parks is the author of several books, including two middle grade biography collections, Strong and Empowered. She also serves as an acquisitions editor for Moody Publishers. Catherine and her husband, Erik, live outside of Nashville, TN, with their children, Sophie and Micah. In her free time, she loves hiking, playing volleyball, and serving on her church's worship team.
Connect: