The Wednesday Bookmark
Details

Category: Authors
Published:

Monday, 30 May 2022 06:00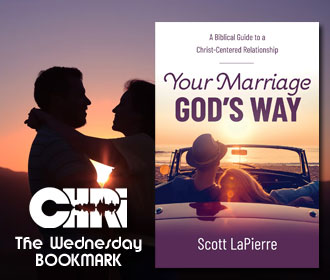 How can you live out a marriage that honours both your spouse AND God? Replay Brock's Wednesday Bookmark interview with Scott LaPierre.
Purchase Your Marriage God's Way, here.
As an Amazon Associate, CHRI earns from qualifying purchases.
Book Description:
Celebrate the Marriage God Made for You
Your most important earthly connection is with your spouse, and when you honor the person you married, you're also honoring God. He created marriage to be one of life's greatest gifts, and the instruction manual you need for a joyful, lasting union is found in His Word.
In Your Marriage God's Way, author and pastor Scott LaPierre takes a close look at the principles for building a biblical marriage―one in which your relationship with Christ brings guidance and blessing into your relationship with your spouse. You'll gain the tools to...
- understand the unique roles and responsibilities of husbands and wives
- recognize and resolve the conflicts you face with a heart of hope and compassion
- follow God's worthy command to love and cherish your spouse unconditionally
Whether you're at the beginning of your journey or you've been on the road together for years, Your Marriage God's Way will provide the helpful and encouraging insights you need to experience marriage as God intends it.
About the Author:
Scott LaPierre is a senior pastor, author, and popular conference speaker. He holds an MA in biblical studies from Liberty University. Scott and his wife, Katie, live in Washington State, and God has blessed them with nine children.
Connect: