The Wednesday Bookmark
Details

Category: Authors
Published:

Monday, 25 July 2022 06:00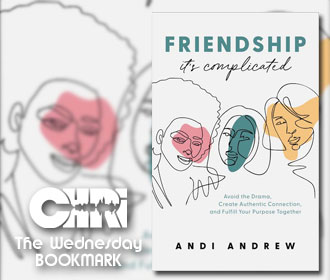 How can you learn to build genuine connection and authentic friendships with other women, even when it's been painful or complicated in the past? Replay Brock's Wednesday Bookmark interview with Andi Andrew.
Purchase Friendship–It's Complicated, here.
As an Amazon Associate, CHRI earns from qualifying purchases.
Book Description:
Through vulnerable personal stories laden with joy, heartache, mistakes, and lessons learned, Andi invites you on a journey of navigating the complications that can come in friendships with other women. With practical and biblical applications throughout, this book will empower you to do the work by first facing yourself and untangling the mess, then seeking reconciliation for genuine connection, and building authentic friendships, even when it's been painful or complicated in the past.
About the Author:
Andi Andrew is the author of She Is Free and Fake or Follower and is the founding pastor, with her husband, Paul, of the multisite Liberty Church, established in 2010. In 2015, she launched She Is Free, a movement that exists to equip and activate women to walk in freedom, spirit, soul, and body and see others set free in their sphere of influence. Currently Andi's life is focused on raising her four kids in Brooklyn, writing, podcasting, building Liberty Church, and traveling to invest in churches and lives all around the world.
Connect: