The Wednesday Bookmark
Details

Category: Authors
Published:

Monday, 06 December 2021 06:00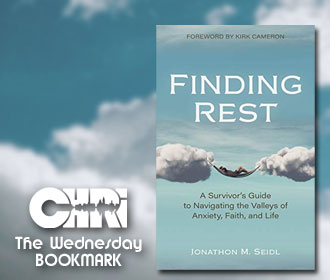 This past year and a half has left more people than ever struggling with their mental health, including those who had never struggled previously. Replay Brock's Wednesday Bookmark interview with Jonathan M. Seidl.
As an Amazon Associate, CHRI earns from qualifying purchases.
Book Description: In the aftermath of the pandemic, even those who have never struggled with mental health have found themselves reeling, looking for answers they don't know how to find. For Christians, especially those who've despaired of help from a church that has too often stigmatized poor mental health as a lack of faith, the way forward can be particularly difficult to see.
Jonathon Seidl aims to fix that. Having fought his own way through crippling anxiety, life-altering OCD, and suicidal thoughts, he knows the value of concrete advice grounded in strong biblical truth. Instead of the trite or unsympathetic counsel that's too often given, Finding Rest is practical, personal, and productive. Full of compelling stories, humor from a guide who's still on his journey, and scriptural truths, this book offers real hope and help. It also provides a lifeline for friends and family who long for ways to help relieve the suffering of their loved ones. And it calls to account the church for its historical treatment of mental health and lays out thoughtful, needed paths for the body of Christ to become a refuge of hope for the anxious.
About the Author:
For the last decade, Jonathon M. Seidl (Jon) has been telling stories. In fact he's written over 6,000 of them, first after helping start a top-50 news site, then as the editor-in-chief of the popular non-profit I Am Second, and most recently as the head of a special digital media product for actor Kirk Cameron. Jon has seen how the power of storytelling can transform people, businesses, and culture, especially after sharing his own story of battling anxiety and OCD. His passion is to help people with mental health struggles, while also sharing what he's learned telling stories for — and working with — some of media's biggest names and organizations, including Glenn Beck, Kirk Cameron, and Chip and Joanna Gaines.
Connect: