The Wednesday Bookmark
Details

Category: Authors
Published:

Monday, 25 October 2021 06:00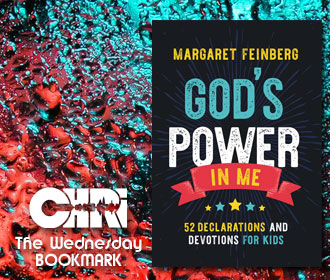 Encouraging young readers 8-12 to break free from negative thinking and focus on the positive truths of who God made them to be. Replay Care's Wednesday Bookmark interview with Margaret Feinberg.
Purchase God's Power in Me, here.

As an Amazon Associate, CHRI earns from qualifying purchases.
Book Description: God's Power in Me is an interactive 52-day devotional that encourages young readers 8-12 to break free from negative thinking and focus on the positive truths of who God made them to be. Through daily devotions paired with a 90-second affirmation kids can say aloud every day, readers will grow closer to God and learn to challenge the personal doubts that might be holding them back.
I'm not good enough. I don't deserve to be their friend. And things will never change. Kids tell themselves things like this every day, and popular Bible teacher and speaker Margaret Feinberg wants to help them defeat those self-doubts and stop believing the lies—because God only tells us the truth about ourselves, and that truth is we are all meant to have a joyous and powerful life.
Throughout the devotions in God's Power in Me, kids will discover:
Quick daily affirmations they can hold on to, biblical teachings, and practical applications for their own lives
Inspiration to banish any negative thoughts and ideas they may have
Encouragement to stand in their own truths while also growing closer to God in the process
God's Power in Me:
Has an engaging two-color interior
Is perfect for anyone ages 8-12 going through their pre-teen years, and can be used by girls and boys
Provides kids with the tools to actively attack automatic negative thoughts every day while also encouraging spiritual development
Can be used over and over as a daily devotional
Is a great gift for Confirmation, Easter, birthdays, or to offer encouragement
About the Author:
Host of the popular podcast, The Joycast, Margaret Feinberg is a popular Bible teacher and speaker at churches and leading conferences such as Catalyst, Thrive, and Women of Joy, and creator of best-selling coloring and creative books for grown ups.
Her books, including Scouting the Divine, Fight Back With Joy, Taste and See: Discovering God Among Butchers, Bakers and Fresh Food Makers, and their corresponding Bible studies, have sold over one million copies and received critical acclaim and extensive national media coverage from CNN, the Associated Press, USA Today, Los Angeles Times, Washington Post, and more.
She was recently named one of 50 women most shaping culture and the church today by Christianity Today. Margaret lives in Utah with her husband, Leif, and their superpup, Zoom. She believes some of the best days are spent around a table with amazing food and friends.
Connect: