The Wednesday Bookmark
Details

Category: Authors
Published:

Tuesday, 28 September 2021 06:00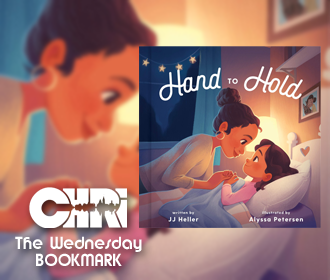 Reassure your child of your boundless love for them and God's faithful presence with a lullaby-inspired bedtime book. Replay Care's Wednesday Bookmark interview with singer/songwriter JJ Heller.
As an Amazon Associate, CHRI earns from qualifying purchases.
Book Description: This heartwarming picture book reassures children that a parent's love never lets go—based on the poignant lyrics of JJ Heller's beloved lullaby "Hand to Hold."
"May the living light inside you be the compass as you go /
May you always know you have my hand to hold."
With delightful illustrations and an engaging rhyme scheme, this book offers the promise of security and love every child's heart longs to know. From skipping stones and counting stars to climbing trees and telling stories, every moment is wrapped snugly in the certain warmth of a parent's presence and God's blessing. With poignancy and joy, this bedtime read captures the unconditional love parents want their children to know but so often fail to express amid the chaos of daily life.
About the Author:
JJ Heller is a Nashville-based singer and songwriter, who writes thoughtful intimate songs that feel like balm for the soul. Her faith informs her songs in subtle ways that feel more like poetry and less like a sermon. Her soothing voice and inspiring melodies blend with poignant lyrics to stir the hearts of listeners of all ages. Heller and her husband, Dave, work creatively together co-writing and recording her songs, and touring the country. After 18 years making music full-time, Heller has 12 full-length albums, a Christmas EP to her name.
Connect: