The Wednesday Bookmark
Details

Category: Authors
Published:

Tuesday, 31 August 2021 06:00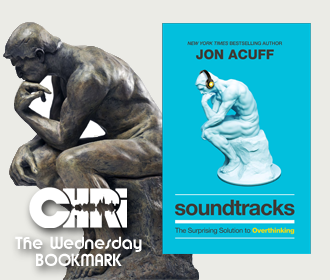 99.5% of people struggle with overthinking. How can overthinking be transformed from a super problem to a superpower? Replay Brock's non-fiction Wednesday Bookmark interview with Jon Acuff.
As an Amazon Associate, CHRI earns from qualifying purchases.
Book Description: It steals time, creativity, and goals. It's the most expensive, least productive thing companies invest in without even knowing it. And it's an epidemic. When New York Times bestselling author Jon Acuff changed his life by transforming his overthinking, he wondered if other people might benefit from what he discovered. He commissioned a research study to ask 10,000 people if they struggle with overthinking too, and 99.5 percent said, "Yes!"
The good news is that in Soundtracks, Acuff offers a proven plan to change overthinking from a super problem into a superpower.
When we don't control our thoughts, our thoughts control us. If our days are full of broken soundtracks, thoughts are our worst enemy, holding us back from the things we really want. But the solution to overthinking isn't to stop thinking. The solution is running our brains with better soundtracks. Once we learn how to choose our soundtracks, thoughts become our best friend, propelling us toward our goals.
If you want to tap into the surprising power of overthinking and give your dreams more time and creativity, learn how to DJ the soundtracks that define you. If you can worry, you can wonder. If you can doubt, you can dominate. If you can spin, you can soar.
About the Author: Jon Acuff is the New York Times bestselling author of seven books, including his newest release, Soundtracks: The Surprising Solution to Overthinking. He's an INC Magazine Top 100 Leadership speaker and has spoken to hundreds of thousands of people at conferences and companies around the world including: FedEx, Nissan, Microsoft, Lockheed Martin, Chick-fil-A, Nokia, and Comedy Central. His large and highly engaged social media following includes nearly 300,000 Twitter followers, more than 187,000 Facebook followers, more than 125,000 Instagram followers, and more than 90,000 email subscribers who look to him for his unique blend of humor, honesty, and hope. He lives outside of Nashville, Tennessee, with his wife and two teenage daughters.
Connect: