The Wednesday Bookmark
Details

Category: Authors
Published:

Tuesday, 27 April 2021 06:00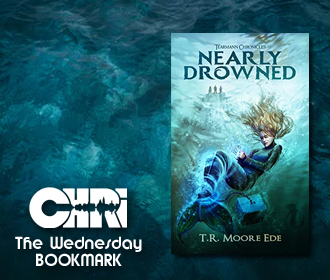 Do you enjoy reading about magical creatures and humans with powers? Replay Care's Wednesday Bookmark interview with T.R. Moore Ede.
Purchase Nearly Drowned, here.
As an Amazon Associate, CHRI earns from qualifying purchases.
Book Description: Malissa has never known her true origins, but that's about to change. Malissa's world is flipped upside down when rescuing a man from a pool that should have been empty makes her a target of those who tried to drown him. The closer they get, the more she realizes that they might have been after her for foiling their plans, but not anymore. They seem to recognize her but from where? Adopted as an infant, Malissa was left with no information about her parents, or so she thought. After rummaging through some old papers, she finds a note from her biological dad. On it, it says that he left her there for her safety. Unfortunately, no clues as to what sort of danger but surely the danger is gone, right?
Tèarmann Chronicles, Nearly Drowned, is the first in a 20+ book series. If you enjoy magical creatures and humans with powers, this series is for you.
About the Author: Born and raised in a Christian family in Canada, T.R. is the third of ten kids. In her early teenage years, she began to develop an interest and eventually a love for writing. What was meant to be a stand alone, then a duo turned into the Tearmann Chronicles. Most of her books, whether in the series or not, show her love and interest in magical creatures, especially mermaids.
Connect: