The Wednesday Bookmark
Details

Category: Authors
Published:

Tuesday, 10 August 2021 06:00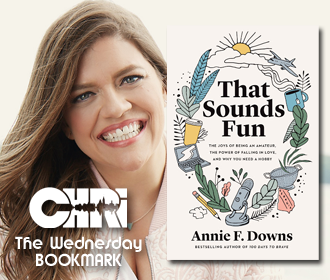 Having fun matters! How can you discover what sounds fun to you and multiply the fun in your life? Replay Brock's non-fiction Wednesday Bookmark interview with Annie F. Downs.
Purchase That Sounds Fun, here.
As an Amazon Associate, CHRI earns from qualifying purchases.

Book Description: With That Sounds Fun, Annie F. Downs offers an irresistible invitation to understand the meaning of fun, to embrace it and chase it, and to figure out what, exactly, sounds fun to you--then do it! Exploring some research and sharing some thoughts behind why fun matters, she shows you how to find, experience, and multiply your fun. With her signature storytelling style and whimsical vulnerability, Annie is the friend we all need to guide us back to staying true to ourselves and finding the fun we need.
About the Author: Annie F. Downs is a New York Times bestselling author, sought-after speaker, and successful podcast host based in Nashville, Tennessee. Engaging and honest, she makes readers and listeners alike feel as if they've been long-time friends.
Connect: