The Wednesday Bookmark
Details

Category: Authors
Published:

Wednesday, 16 June 2021 06:00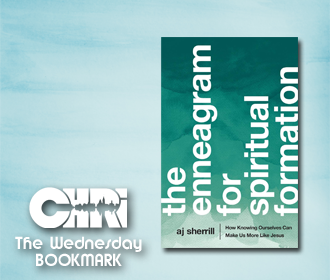 The Enneagram can be a pathway to profound spiritual transformation. Read more for Brock's non-fiction Wednesday Bookmark interview with AJ Sherrill.
Purchase The Enneagram for Spiritual Formation here.
As an Amazon Associate, CHRI earns from qualifying purchases.

Book Description: Author AJ Sherrill still remembers the moment when his life was forever changed by a word he didn't even understand at the time: Enneagram. A personality theory that includes nine different "types," the Enneagram has become a popular tool for self-awareness and improvement.
But in this book, Sherrill goes deeper, exploring with Christians how the Enneagram can be a pathway to profound spiritual transformation. Sherrill reveals the Enneagram as a tool to unlock new ways of viewing identity, personality, discipleship, spiritual practices, evangelism, and the Bible.
Using this fresh approach, Sherrill shows how our true identity is that of a beloved child of God. Recognizing that, we can move confidently into the world expressing this identity through our unique personality.
Through Sherrill's detailed spiritual exploration of each type, readers will emerge viewing the Enneagram as a precious gift to following Jesus more closely.
About the Author: AJ Sherrill (DMin, Fuller Theological Seminary) has more than twenty years of experience as a pastor, including the role of lead pastor at Mars Hill Bible Church in Grand Rapids, Michigan. He is an adjunct professor at Fuller Theological Seminary, where he teaches popular courses on transformational preaching and the Enneagram. He receives many speaking requests to lead Enneagram workshops across the country.
Connect: