The Wednesday Bookmark
Details

Category: Authors
Published:

Tuesday, 15 October 2019 06:00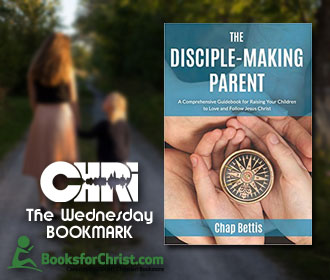 Your children will either live forever with Jesus or apart from him. Too many growing up in Christian homes will not follow Christ as adults. Do you have a strategy for parenting in today's hostile culture? Read more for Brock's non-fiction Wednesday Bookmark interview with Chap Bettis.
Purchase "The Disciple-Making Parent" online at BooksforChrist.com


Book Description: In the Disciple Making Parent you will learn; The reasons young people walk away from their faith, how your example can commend the gospel, how to nourish them with the Word of God, the North Star to Guide your parenting, the process second-generation Christians go through, the reasons young people walk away from the faith, and so much more.

About the Author: Chap Bettis is the author of The Disciple-Making Parent: A Guidebook for Raising Your Children to Love and Follow Jesus Christ. He is also a frequent conference speaker and executive director of The Apollos Project, a ministry dedicated to helping families pass the gospel to their children. For 25 years, he was lead pastor of a New England church plant. He and his wife, Sharon, have four children and reside in Rhode Island.

Chap Bettis will be in Ottawa for "The Disciple-Making Parent Conference" on Saturday, October 19th. This event runs from 9:00AM to 3:30PM at the Met. He will be leading talks on topics surrounding parenting and raising your children to grow in their faith, similar to his book.
Connect:
facebook.com/the-apollos-project