The Wednesday Bookmark
Details

Category: Authors
Published:

Tuesday, 13 March 2018 06:00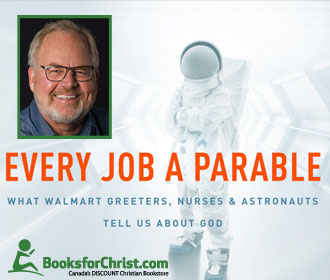 A fascinating and innovative reflection on vocation. Read more for Brock Tozer's non-fiction Wednesday Bookmark interview with John Van Sloten.
Purchase "Every Job a Parable: What Walmart Greeters, Nurses, and Astronauts Tell Us about God" online at booksforchrist.com.
(Originally aired March 14th, 2018)

Book Description: A Walmart greeter, a nurse, and an astronaut walk into a church. . . .
They each bring with them their own exhaustions and exasperations, their own uncertainty about whether and how their work matters to God. Good news: All work matters to God, because all work reflects some aspect of the character of God. God created the world so that it runs best when it mirrors Him, and we ourselves find the most fulfillment when we recognize God behind our labor.
John Van Sloten offers a fascinating and innovative reflection on vocation: Our work is a parable of God; as we work, we are icons of grace.
About the Author: John Van Sloten is a pastor, teacher and writer who lives in Calgary, Alberta, Canada. For the past 20 years he's been exploring a worldview that seeks to discern God's voice in all things: the Bible, the arts, sport, science, film, music, literature, history, maths, nature and human nature. John's first book, The Day Metallica Came to Church: Searching for the Everywhere God in Everything (Square Inch, August 2010), listened for God's whispers in pop culture. John has been the recipient of two John Templeton Foundation grants, exploring the intersection of faith and science in the context of preaching.
Contact: