The Wednesday Bookmark
Details

Category: Authors
Published:

Tuesday, 25 April 2017 06:00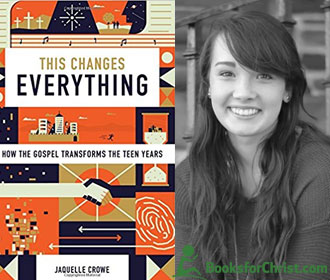 The answer to many practical questions for the Christian teen who wants to pursue Christ. Read more for Care Baldwin's interview with Jaquelle Crowe on this week's Youth Wednesday Bookmark, brought to you by BooksforChrist.com! (Aired April 26th, 2017)
Purchase online at BooksforChrist.com.
The teen years have been hijacked—by fashion, music, movies, and games; by the pressures of school, peers, and society; and by superficial expectations set by the world. But there is something more glorious than all these influences that has the power to change the life of a teenager: the gospel. Written by a teenager for teenagers, This Changes Everything is a deeply theological yet practical and accessible book on how the gospel radically transforms every aspect of the teen years, including pursuing relationships, managing time, combating personal sin, and cultivating healthy habits. In a culture awash with low expectations for young people, this book exhorts teenagers to embrace a gospel-centered perspective on their lives and pursue wholehearted devotion to Christ now.
About the Author
Jaquelle Crowe (BA, Thomas Edison State University) is a young writer from eastern Canada. She's the lead writer and editor-in-chief of TheRebelution.com and a contributor to the Gospel Coalition, desiringGod.org, and Unlocking the Bible. Her first book is This Changes Everything: How the Gospel Transforms the Teen Years.
jaquellecrowe.com
facebook.com/Jaquelle-Crowe
twitter.com/JaquelleCrowe
instagram.com/jaquellecrowe