The Wednesday Bookmark
Details

Category: Authors
Published:

Tuesday, 18 April 2017 06:00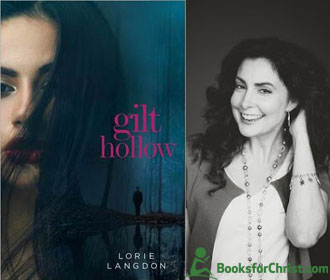 Author Lorie Langdon draws readers into a town riddled with deadly secrets and dangerous lies lurking in every corner. Read more for Care Baldwin's interview with Lorie Langdon on this week's Youth Wednesday Bookmark, brought to you by BooksforChrist.com! (Aired April 19, 2017)

Purchase online at BooksforChrist.com.
Willow Lamott's best friend is a convicted killer, and no one in the small town of Gilt Hollow will let her forget it. Over four long years, she's tried to fade into the background—but none of that matters when Ashton Keller comes striding into school, fresh out of juvie and fueled by revenge. The moment their eyes meet, Willow no longer feels invisible. Drawn to the vulnerability behind Ashton's mask of rage, she sinks deeper into his sinister world and begins to question whether he's a villain, a savior, or both.
Ashton thought he wanted vengeance, until Willow Lamott stepped back into his life. Now he longs to clear his name and become the person she sees in him. But the closer they get to uncovering the truth, the darker the secrets become, and Ashton wonders if his return to Gilt Hollow will destroy everyone he loves.
About the Author
Lorie Langdon is one half of the author team that writes the best-selling DOON series, a young adult reimagining of the musical Brigadoon. A few years ago, she left her corporate career to satisfy the voices in her head. Now she spends her days tucked into her office, Havanese puppy by her side, working to translate her effusive imagination into the written word.
Lorie has been interviewed on Entertainment Weekly.com and several NPR radio programs, including Lisa Loeb's national Kid Lit show. The DOON series has been featured on such high profile sites as USAToday.com, Hypable.com, and BroadwayWorld.com.
Lorie's solo debut, GILT HOLLOW, a YA romantic thriller, released September 27th 2016. GILT HOLLOW was recently named by Redbook Magazine as one of the "Books By Women You Must Read This Fall" and received a "Highly Recommended" review from USAToday.com.
lorielangdon.com
facebook.com/AuthorLorieLangdon