The Wednesday Bookmark
Details

Category: Authors
Published:

Tuesday, 11 April 2017 06:00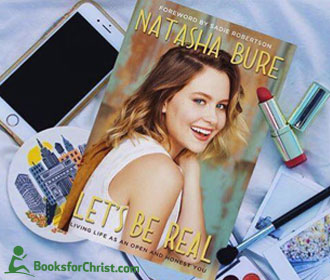 From singer, model and YouTube celebrity Natasha Bure, the daughter of Candace Cameron Bure, comes a real, honest conversational book that doesn't hold back. Read more for Care Baldwin's interview with Natasha Bure on this week's Youth Wednesday Bookmark, brought to you by BooksforChrist.com! (Aired April 12, 2017)

Purchase online at BooksforChrist.com.
From singer, model and YouTube celebrity Natasha Bure, the daughter of Candace Cameron Bure, comes a real, honest conversational book that doesn't hold back. Everywhere she goes and every video she posts has one basic message: this is real, this is life, and we all go through it. Whether it's acne, boyfriends, faith, stress, or having fun, Natasha's view is to simply be honest, simply be real, no matter what you face. Natasha's real and relatable tone paired with personal notes and stories will help readers see that living a "real" life is the best life.
Let's Be Real features a stunning dust jacket with embossing and foil.
About the Author
Natasha Bure is the daughter of actress and New York Times bestselling author, Candace Cameron Bure, and former NHL All-Star forward, Valeri Bure. Natasha's passion for music and entertainment began at the age of 10. She has appeared in ABC Family's hit show Make It or Break It as well as in Hallmark's The Heart of Christmas. Natasha's unique vocal style and creative songwriting have been featured in national performances on ABC's daytime talk show, The View, and she was a participant on NBC's top-rated reality singing competition, The Voice. In addition to Natasha's core values of faith and family, she enjoys playing tennis and staying active with her friends. She grew up in South Florida and now happily resides in Southern California with her family.
youtube.com/user/NatashaBure
facebook.com/natashabureoffical
instagram.com/natashabure