The Wednesday Bookmark
Details

Category: Authors
Published:

Tuesday, 04 April 2017 06:00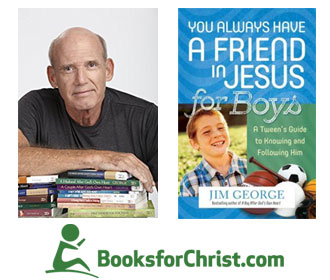 Help your son explore ten ways he can live like Jesus every single day. Read more for Care Baldwin's interview with author, Jim George about "You Always Have a Friend in Jesus for Boys" on this week's Youth Wednesday Bookmark, brought to you by BooksforChrist.com! Aired Wednesday, April 5th, 2017.

Purchase online at BooksforChrist.com.
Need a Friend You Can Count On? Jesus Is the Best!
Athletes, musicians, actors, and other grown-ups—these are the people you look up to. But the best role model of all? That's Jesus—the hero who's also your best friend.
Explore ten ways you can live like Jesus every single day. With His help, you can have
confidence to be who you are
courage to do the right thing
discipline to get stuff done
faith that it's all going to turn out okay
focus to reach your goals
You will see how Jesus lived out these character traits in His everyday life on earth, and you will discover suggestions for making them real in your own life. Become the kind of guy others look up to, a guy who points them to the ultimate role model—Jesus.
About the Author
Jim George and his wife, Elizabeth George, are Christian authors and speakers. Jim, author of A Husband After God's Own Heart (a Gold Medallion finalist) and The Bare Bones Bible® Handbook, has MDiv and ThM degrees from Talbot Theological Seminary. He has served in various pastoral roles for 25 years and on The Master's Seminary staff for ten years. Jim and Elizabeth have two married daughters and are grandparents.
jimgeorge.com
facebook.com/Jim-George
twitter.com/JEGeorgeAuthors