The Wednesday Bookmark
Details

Category: Authors
Published:

Tuesday, 28 March 2017 06:00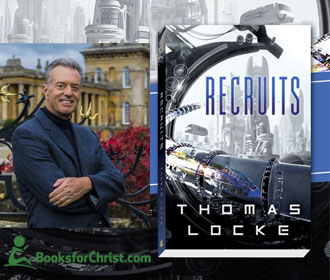 Recruits is a remarkable feat, combining adroit storytelling with a delicious mixture of the now and the fantastic. Tune in Wednesday, March 29th at 4:30pm for Care Baldwin's interview with Thomas Locke on this week's Youth Wednesday Bookmark interview brought to you by BooksforChrist.com.
Purchase online at BooksforChrist.com.
It's a world they've seen only in their dreams--until now.
Twins Sean and Dillon Kirrel have dreamed about a world beyond their own since they were children, but it has always been a fantasy. Not long before their eighteenth birthday, however, the arrival of a mysterious new neighbor and the revelations he shares bring that far-off world within reach.
When Sean and Dillon learn they share a unique gift--the ability to transfer instantly between worlds--they are offered an opportunity to prove themselves as recruits to the planetary Assembly. But unlocking their abilities awakens an enemy beyond anything they ever imagined, thrusting them into an interplanetary conflict that could consume the entire human race.
About the Author
Thomas Locke is a pseudonym for Davis Bunn, an award-winning novelist with worldwide sales of seven million copies in twenty languages. Davis divides his time between Oxford and Florida and holds a lifelong passion for speculative stories. He is the author of Emissary and Merchant of Alyss in the Legends of the Realm series, as well as Trial Run and Flash Point in the Fault Lines series.
tlocke.com
facebook.com/tlockebooks
twitter.com/tlockebooks